4 Bay Synology DiskStation DS920+ Diskless NAS Unit
Web ID: 28590
Synology DS920+ is an ideal network-attached storage solution to streamline data management and productivity.Two built-in M.2 SSD slots and Synology SSD Cache technology allow you to boost system I/O and application performance. Scalable storage design lets you start small and expand storage capacity with Synology DX517 as your data grows. DS920+ 4-Bay Diskless NAS, Processor: Intel Celeron J4125 Quad Core 2.0GHz/2.7GHz CPU, Memory: 4GB DDR4 Onboard, Drive Bays: 4x 3.5"/2.5" SATA HDD/SSD, 2x M.2 2280 NVMe SSD, I/O: 2x USB 3.0, 1x eSATA, 2x 1GbE RJ45 LAN, Fans: 2x 92mm System Fans ONLY WHILE STOCKS LAST!
Manufacturer Warranty: 3 Year
Manufacturer PN: DS920+
GTIN: 846504003815
Manufacturer Website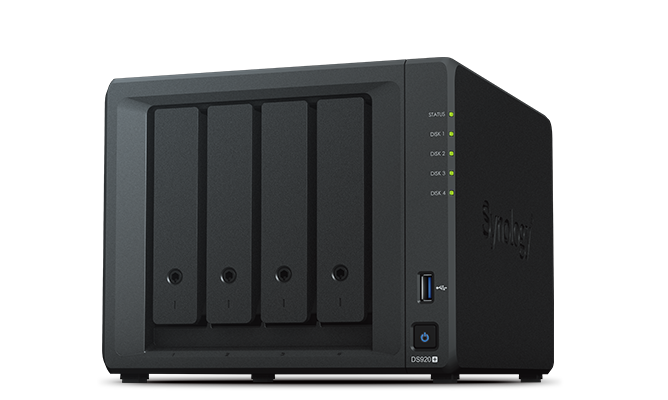 Scalable NAS with SSD cache acceleration capability
Synology DS920+ is an ideal network-attached storage solution to streamline data management and productivity.Two built-in M.2 SSD slots and Synology SSD Cache technology allow you to boost system I/O and application performance. Scalable storage design lets you start small and expand storage capacity with Synology DX517 as your data grows.
CPU
4-core 2.0 GHz, burst up to 2.7 GHz
Cache Acceleration
2 x built-in M.2 2280 NVMe SSD slots
Performance
Average 15% boost to computing-intensive applications1
Scalability
Expand up to 9 drives with a DX517 expansion unit
Optimize performance and capacity
DS920+ provides two built-in M.2 SSD slots so that you can take full advantage of Synology SSD Cache functionality. Add SSD cache for up to 20 times faster I/O response without using front drive bays. You can add five more drives with Synology DX517 to expand storage capacity.
Accelerate demanding applications
A more powerful CPU speeds up computing-intensive applications. The new 4-core processor boosts photo indexing, database response times, and web PHP response efficiency. Easily categorize your photo memories, smoothly manage files across computers and mobile devices, and enjoy blazing fast web applications.
Synology Drive Moments Web server
DS920+
Predecessor
15.5%
faster in file indexing
DS920+
Predecessor
24%
faster in photo indexing
DS920+
Predecessor
133%
faster PHP response
Access and sync your files seamlessly
Synology Drive provides a built-in universal portal to access your data anytime and anywhere, and synchronize all your files across platforms, including Windows, macOS, Linux, Android, and iOS.
Sync files on demand: Save the storage space and network bandwidth of your PC.
Go back in time: Easily retrieve previous versions of your shared files.
Back up your data: Protect your files as scheduled or in real-time.
Real-time collaboration on your private cloud
Synology Office is a collaboration package combining the convenience and usability of public clouds with the data privacy and security guaranteed by private clouds. It allows you to work seamlessly together on documents and spreadsheets in a protected environment.
Real-time collaboration on the same online documents to boost productivity,
Instant communication on Synology Chat during the editing of documents or spreadsheets
Version control for you to navigate all the changes and retrieve previous versions with just a click
Virtual Machine Manager
Virtual Machine Manager enables you to test new software in sandboxes, isolate your customers' machines, and increase the flexibility of your server. You can easily run Windows, Linux, and Virtual DSM on your Synology NAS by just a few steps.
Snapshots for virtual machines
Perfectly clone and restore a virtual machine within seconds.
Live migration
Seamlessly migrate Virtual DSM instances from a Synology NAS to another.
Multi-tenant environment
Create multiple isolated virtual machines for subsidiary business units or departments.
Powered by Synology DSM
Multimedia
Complete multimedia solution for management, streaming, and playback.
Hyper Backup
Store multiple backup versions with block-level incremental data backup and cross-version deduplication.
Desktop Backup
Simplified backup solution for your Mac, PC, and mobile devices.
Snapshot Replication
Schedulable and instantaneous data protection for shared folders and iSCSI LUNs for disaster prevention.
Surveillance Station
Complete surveillance solution for recording, monitoring, and management.
Virtual Machine Manager
Run various operating systems in isolated sandboxes. Seamlessly clone, restore and migrate virtual machines.
1Status indicator
2Drive status indicator
3Drive tray lock
4USB 3.0 port
5Power button and indicator
6Drive tray
71GbE RJ-45 port
8Reset button
9eSATA port
10Power port
11System fan
12Kensington Security Slot
CPU ModelIntel Celeron J4125CPU Architecture64-bitCPU Frequency4-core 2.0 (base) / 2.7 (burst) GHzHardware Encryption Engine (AES-NI)

Memory

System Memory4 GB DDR4 non-ECCTotal Memory Slots1Maximum Memory Capacity8 GB (4 GB + 4 GB)Notes

Please select Synology memory modules for optimum compatibility and reliability. Synology will not provide complete product warranty or technical support if non-Synology memory modules are used for memory expansion.
Synology reserves the right to replace memory modules with the same or higher frequency based on supplier's product life cycle status. Rest assured that the compatibility and stability have been strictly verified with the same benchmark to ensure identical performance.

Storage

Drive Bays4Maximum Drive Bays with Expansion Unit9 (DX517 x 1)M.2 Drive Slots2 (NVMe)Compatible Drive Type* (See all supported drives)

3.5" SATA HDD
2.5" SATA HDD
2.5" SATA SSD
M.2 2280 NVMe SSD

Maximum Internal Raw Capacity64 TB (16 TB drive x 4) (Capacity may vary by RAID types)Maximum Raw Capacity with Expansion Units144 TB (64 TB + 16 TB drive x 5) (Capacity may vary by RAID types)Maximum Single Volume Size*108 TBHot Swappable DriveNotes

"Compatible drive type" indicates drives that have been tested to be compatible with Synology products. This term does not indicate the maximum connection speed of each drive bay.
The maximum raw capacity is not limited by the maximum single volume size. Synology NAS models may utilize capacities over the maximum single volume size as long as each volume created is below the limit. (Learn more)
Each internal volume (may consist of multiple drives) is expandable up to 108TB.

External Ports

RJ-45 1GbE LAN Port2 (with Link Aggregation / Failover support)USB 3.0 Port2eSATA Port1

File System

Internal Drives External Drives

Btrfs
EXT4
EXT3
FAT
NTFS
HFS+
exFAT*

NotesexFAT Access is purchased separately in Package Center.

Appearance

Size (Height x Width x Depth)166 mm x 199 mm x 223 mmWeight2.24 kg

Others

System Fan92 mm x 92 mm x 2 pcsFan Speed Mode

Full-Speed Mode
Cool Mode
Quiet Mode

Brightness Adjustable Front LED IndicatorsPower RecoveryNoise Level*19.8 dB(A)Scheduled Power On / OffWake on LAN / WANPower Supply Unit / Adapter100 WAC Input Power Voltage100 V to 240 V ACPower Frequency50/60 Hz, Single PhasePower Consumption*32.17 W (Access)
9.69 W (HDD Hibernation)British Thermal Unit109.84 BTU/hr (Access)
33.09 BTU/hr (HDD Hibernation)Notes

Power consumption is measured when it is fully loaded with Western Digital 1TB WD10EFRX hard drive(s).
Noise Level Testing Environment: Fully loaded with Seagate 2TB ST2000VN000 hard drive(s) in the idle state. Two G.R.A.S. Type 40AE microphones, each set up 1 meter away from the Synology NAS at the front and rear. Background noise: 16.49-17.51 dB(A); Temperature: 24.25-25.75°C; Humidity: 58.2-61.8%

Temperature

Operating Temperature0°C to 40°C (32°F to 104°F)Storage Temperature-20°C to 60°C (-5°F to 140°F)Relative Humidity5% to 95% RH

Certification

EAC
VCCI
CCC
RCM
KC
FCC
CE
BSMI

Warranty

3 YearsNotesThe warranty period starts from the purchase date as stated on your purchase receipt. (Learn more)

Environment

RoHS Compliant

Packaging Content

Main Unit X 1
Accessory Pack X 1
AC Power Adapter X 1
AC Power Cord X 1
RJ-45 LAN Cable X 2
Quick Installation Guide X 1

Optional Accessories

NotesAll memory modules will operate at the maximum frequency specified by the CPU manufacturer.