4 Bay QNAP TS-453BU-4G Rackmount Gigabit NAS Unit
Web ID: 24380
The TS-453BU is a 1U rackmount NAS that easily fits into a standard 19-inch rack, providing an ideal storage solution in the server room for small and medium businesses. The TS-453BU comes with a PCIe slot for boosting potential applications: the QNAP QM2 expansion card can be installed to add an M.2 SSD cache/10GbE connectivity, a compatible wireless card can be installed to use the TS-453BU as a wireless access point, and a USB 3.1 10Gbps card can be added for easier backup to/from multiple external storage. ONLY WHILE STOCKS LAST!
Manufacturer Warranty: 2 Year
Manufacturer PN: TS-453BU-4G
GTIN: 885022013432
Manufacturer Website
The TS-453BU is a 1U rackmount NAS that easily fits into a standard 19-inch rack, providing an ideal storage solution in the server room for small and medium businesses. The TS-453BU comes with a PCIe slot for boosting potential applications: the QNAP QM2 expansion card can be installed to add an M.2 SSD cache/10GbE connectivity, a compatible wireless card can be installed to use the TS-453BU as a wireless access point, and a USB 3.1 10Gbps card can be added for easier backup to/from multiple external storage. The TS-453BU also provides a wide range of value-added features: 4K video playback and real-time transcoding; deployment of virtual environments through Virtualization Station and Container Station; centralized management of remote Windows®, Linux® and IPMI-compatible devices with QRM+; and web automation services with IFTTT Agent.
PCIe slot supports installing a QNAP QM2 dual-port M.2 SSD/10GbE card, a compatible wireless adapter, or a USB 3.1 10Gbps card.
Supports dual-channel 4K H.264/H.265 hardware decoding and on-the-fly or offline transcoding
Qfiling automates file organization and Qsirch provides full-text search for easier file management
QRM+ enables centralized management of remote Windows®, Linux® and IPMI-compatible devices.
A hybrid approach to virtualization in one NAS: Virtualization Station and Container Station
Scalable storage space with VJBOD and UX-1200U-RP/UX-800U-RP expansion enclosures
Intel® Celeron® J3455 quad-core 1.5GHz CPU with AES-NI Encryption
Powered by the latest 14 nm Intel® Celeron® J3455 quad-core 1.5GHz processor (burst up to 2.3 GHz), up to 8GB DDR3L RAM, four Gigabit LAN ports, and SATA 6Gb/s, the TS-453BU runs tasks smoothly and quickly with up to 369 MB/s read/ write speeds. The TS-453BU features Intel® AES-NI accelerated encryption to drive transfer speeds of up to 336 MB/s with AES 256-bit encryption for both full NAS volumes and shared folders, boosting system performance while ensuring the confidentiality of sensitive business data stored in the NAS.
Tested in QNAP Labs. Figures may vary by environment.

Test Environment:
NAS: TS-453BU
OS: QTS 4.3.3
Volume type: RAID 5; 4 x Seagate ST1000NM0033-9ZM173, 4GB RAM; QNAP LAN-10G2SF-MLX 2 port 10GbE SFP+
Client PCs: Intel® Core™ i7-4770 3.40GHz CPU; DDR3L 1600Hz 16GB; WD 1TB WD10EZEX; Intel Gigabit CT (MTU 1500); Windows® 10 64-bit
Extend NAS functionality with PCIe expansion
The TS-453BU has a PCIe expansion slot, providing flexibility in extending NAS functionality and potential applications. Install a QNAP QM2 card to provide M.2 SSD caching/10GbE connectivity, or use the TS-453BU as a wireless access point by installing a compatible wireless network card, or boost the USB connectivity of the TS-453BU by installing a USB 3.1 10Gbps card.
QM2 expansion card rede?nes NAS function
QNAP's QM2 is a PCIe expansion card that features dual M.2 SSD slots and 10GbE connectivity* (individual cards may vary in functionality). This allows users to easily set up SSD caching or to enable Qtier auto-tiering technology to optimize NAS performance. 10GbE-compatible models can also future proof the TS-453BU for use with 10GbE networks. Equipped with a dedicated cooling module, the QM2 can maintain its high performance even when tasked with the highest workloads.
*Selected models with 10GbE connectivity is backward compatible with 5GbE/2.5GbE/1GbE/100MbE network.


SSD cache acceleration
The TS-453BU supports SSD caching. Users can install an SSD in drive bay 1 and bay 2 to boost IOPS performance of storage volumes. It is perfect for improving the overall workflow of IOPS-demanding applications and allows the best of both cost and performance by combining SSDs with HDDs. Coupled with Qtier™ auto-tiering technology (which now supports "On Demand Allocation Priority"), users can customize storage allocation to best suit their system environment and application demands.
QRM+: Centralized management solution for networked computing devices
QRM+ is QNAP's Centralized Management Solution, designed for IT teams, for networked computing devices. It provides a single-point solution to discover, map, monitor and manage all of the critical computing devices (including servers, PCs, and thin clients) in your network, and facilitates device discovery with the graphical topology diagram. QRM+ supports IPMI 2.0, provides remote KVM (Keyboard, Video, Mouse) for certain IPMI devices, and supports tracking every action using KVM recording and playback. Simply install QRMAgent on your Windows® and Linux® devices and you will see their system status on the QRM+ management interface. With centralized management using QRM+ on the NAS, IT infrastructure and device security is enhanced while troubleshooting and network resource performance analysis is greatly simplified.
Data backup, recovery, and synchronization
Hybrid Backup Sync provides a well-rounded solution for data backup, file synchronization and disaster recovery for you to easily and securely backup data from your NAS to several local, remote and cloud storage spaces. In the event of system crashes or critical hardware failure, you can quickly restore data from these storage spaces, minimizing downtime and reducing overall loss. Hybrid Backup Sync also takes advantage of cloud storage for one-way sync of your data to cloud storage through RTRR, rsync, FTP, SMB protocol, or two-way sync your NAS with remote NAS/cloud services.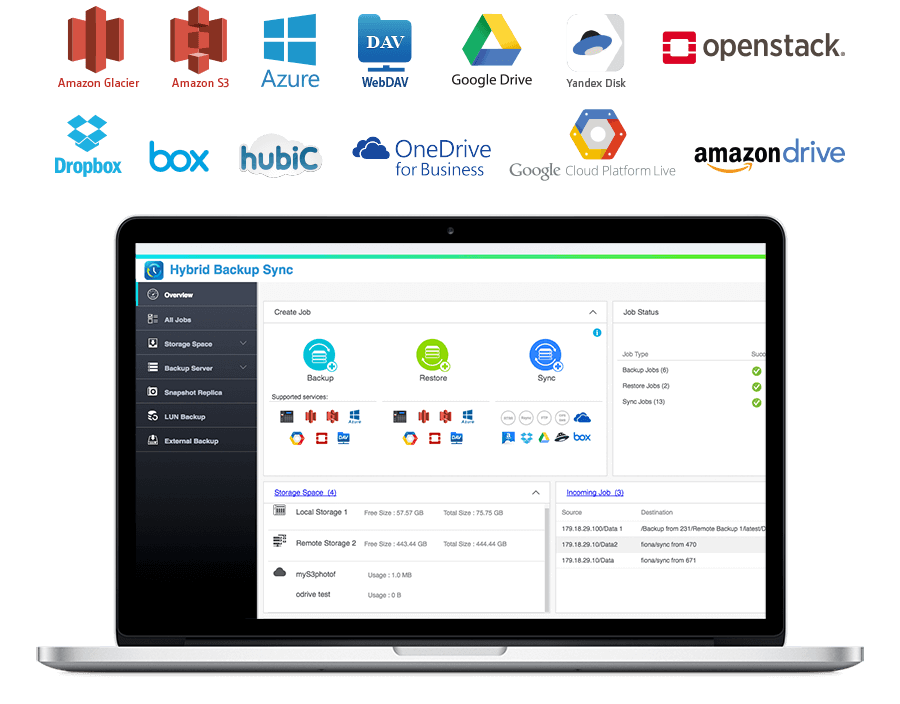 QTS-Linux dual systems, geared for the IoT era
The TS-453BU's QTS-Linux dual systems are based on QNAP's advanced virtualization technologies. The revolutionary architecture of the TS-453BU enables users not only to download rich apps from QTS App Center but also to develop or utilize IoT packages for Linux® and display them using HDMI output. With the TS-453BU, you can develop and install various IoT packages on demand and centrally store the data on the TS-453BU, benefiting from a secure private storage and development solution.
CPU
Intel Apollo Lake J3455 4-core 1.5GHz
System Memory
4 GB DDR3L (2 x 2 GB)
Memory Slot
SODIMM x 2 (MAX. 8GB)
Flash Memory
4GB eMMC
PCIe Slot
1 x PCIe gen 2 x 2 slot
Drive Bay
4
Drive Compatibility
SATA 6Gb/s, 3Gb/s HDD or SSD; Hot-swappable
USB Port
4 x USB 3.0 (Rear)
Gigabit Ethernet Port
4 x GbE
HDMI Output
1 x HDMI 1.4b
LED Indicators
System Status, HDD, USB, LAN
Buttons
Power, Reset
System Warning
Buzzer
Form Factor
1U, rack mountable
Dimensions (H x W x D)
44 x 439 x 499 mm
1.73 x 17.28 x 19.65 inch
Weight
Net: 7.50 kg (16.53 lbs)
Gross: 11.60 kg (25.57 lbs)
Power Consumption (W)
HDD sleep: 21.3W
Typical Operation: 31.5W
Sound Level
Operating low speed: 38.6 dB(A)
Operating Temperature & Relative Humidity
0-40°C
0~95% R.H.
Power Supply Unit
ATX 250W
Fan
2 x 40mm, 12V DC