4 Bay QNAP TS-451+ 2GB Gigabit NAS Unit
Web ID: 20504
The Intel quad-core TS-451+ provides an uncompromising high-performance scalable storage solution for professional users. Powered by the intelligent QTS 4.2 operating system, the TS-451+ performs as an easy-to-use yet powerful NAS for data backup, file synchronization and sharing, remote access and multimedia applications, and is ideal for users to create a secure private cloud to access their data easily. ONLY WHILE STOCKS LAST!
Manufacturer Warranty: 2 Year
Manufacturer PN: TS-451PLUS
GTIN: 885022009022
Manufacturer Website
Facing the increasing demand for data storage, sharing and multimedia processing, more and more users are looking for a NAS system with good performance and an affordable price tag. The Intel® quad-core TS-451+ provides an uncompromising high-performance scalable storage solution for professional users. Powered by the intelligent QTS 4.2 operating system, the TS-451+ performs as an easy-to-use yet powerful NAS for data backup, file synchronization and sharing, remote access and multimedia applications, and is ideal for users to create a secure private cloud to access their data easily.
Centralize your file storage, sharing and backup with excellent performance
Run multiple Windows®, Linux®, UNIX® and Android™ based virtual machines with the Virtualization Station
Operate multiple isolated Linux® systems as well as download containerized apps with Container Station
Enjoy the best audio-visual experience with HDMI output and the free remote control
Transcode Full HD videos on-the-fly or offline*
Stream multimedia files via DLNA®, AirPlay®, Chromecast™ and Bluetooth® with multi-zone multimedia control
Quickly find specific files by real-time, natural search with Qsirch
Scale up to 12 drives with QNAP UX-800P expansion enclosure
Quad-core 64-bit Intel® Celeron® CPU for exceptional performance
The TS-451+ is powered by a 64-bit Intel® Celeron® quad-core 2.0GHz processor and has 2GB/8GB energy-efficient DDR3L RAM (upgradable to 8GB) and dual Gigabit LAN ports, delivering up to 225 MB/s read & write speeds with port trunking mode. The TS-451+ can also automatically increase the processor's clock rate from 2.0GHz to 2.42GHz when needed for CPU-intensive tasks. The TS-451+ supports AES 256-bit volume & folder encryption with transfer speeds of up to 204 MB/s, boosting system performance & security while ensuring the safety of sensitive personal data stored in the TS-451+.
Tested in QNAP Lab. Figures could vary by environment.

Test environment:
NAS:
OS: QTS 4.2.0
Volume type: RAID 5; 4 x Seagate 1TB HDD (ST1000NM0033)
Network environment: direct connection between NAS and PC, 1GbE LAN (MTU 1500)

Client PCs:
Intel® Core™ i7-4790 3.60GHz CPU; DDR3-1600 16GB; Seagate 500GB ST500DM002; Intel Gigabit CT (MTU 1500);Windows® 7Professional 64bit SP1
IOMeter configuration: Transferring 8GB file continuously to/from 4 PCs for 3 minutes. Block size: 64KB for SMB2.0 (Throughput)
QTS 4.2 - Simple and efficient
Thanks to the intuitive user interface of QTS 4.2, your NAS experience is smarter, smoother and spectacular. Its modern flat design streamlines loading times, and the intelligent desktop allows you to quickly find desired functions, create desktop shortcuts or group shortcuts, monitor important system information on a real-time basis, and open multiple application windows to run multiple tasks concurrently, bringing greater operating efficiency. QTS breaks the barriers of devices, platforms and geography to bring optimized cloud experiences to you, and incorporates more advanced features including volume/LUN snapshot, remote connection to public cloud services in File Station, multi-zone multimedia system, and more.
Run additional operating systems on the TS-451+
The Virtualization Station transforms the TS-451+ into a 2-in-a-box NAS that can function as an all-in-one NAS and a virtualization platform that supports multiple operating systems, fast VM creation, VM backup & restoration, VM import/export, snapshot, Device Management for centrally managing VM, and enables desktop operations on web browsers. With the easy-to-use interface, you can centrally manage all of the VMs created on the TS-451+ with minimal effort. You can also download VMs on demand from online VM markets and import them to the TS-451+ without any complex procedures.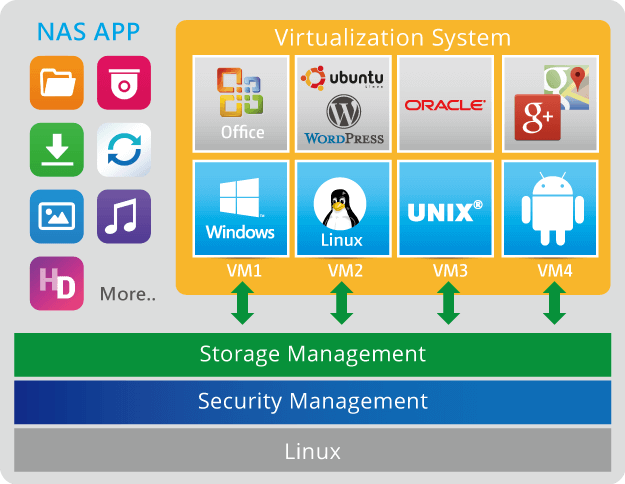 Container Station – LXC and Docker® Containers inclusive
QNAP Container Station exclusively integrates LXC and Docker® lightweight virtualization technologies, allowing you to operate multiple isolated Linux® systems on the TS-451+ as well as download apps from the built-in Docker Hub® Registry. It supports container import/export and permission settings, and features an informative dashboard and flexible user interface for you to manage multiple containers. You can experience the amazing Container Station and enjoy the playground of virtual containers with the TS-451+. Container Station also supports Online Document app, which allows you to directly view, edit and store files of various types anytime on your NAS, including Office documents, images and text files.
Real-time & offline video transcoding*
The TS-451+ delivers superior real-time video transcoding (up to 4K H.264) to convert your videos to formats that can be smoothly played on PCs, mobile devices and Smart TVs. It allows for multiple devices to simultaneously view different videos stored on the TS-451+ with on-the-fly hardware accelerated transcoding, saving your time in converting videos to different formats for different devices.
With the benefits of offline transcoding, if you can only connect to an Internet connection with limited/restricted bandwidth, you can still enjoy smooth videos via File Station, Video Station, or the Qfile app by selecting a pre-rendered lower-resolution video, saving system resources of the TS-451+ for other applications. The TS-451+ also allows you to set a dedicated folder for automatic video transcoding.
Enjoy media freely with multi-zone multimedia control
Use your TS-451+ as a multi-zone multimedia system to fill every corner of your house with your choice of media. You can centrally manage and stream photos, music and videos from the TS-451+ to different rooms from a single device using Bluetooth®& USB devices connected to the TS-451+ (for music streaming only), HDMI, DLNA®, Apple TV® and Chromecast™*. Every room member in different zones can enjoy the convenience and simplicity for media playback and multimedia storage.
Alternatively, to enjoy multimedia yourself, you can choose DLNA-compatible devices, use the Qfile app on an iOS® device to browse videos/photos and play on the TV via Apple TV®, or transform the TS-451+ into a powerful streaming machine with DLNA®, Roku®, Amazon® Fire TV, and Google TV™ support with the support of Plex Media Server.
*To stream multimedia via Chromecast, you must first install the multimedia extension pack from the QTS App Center.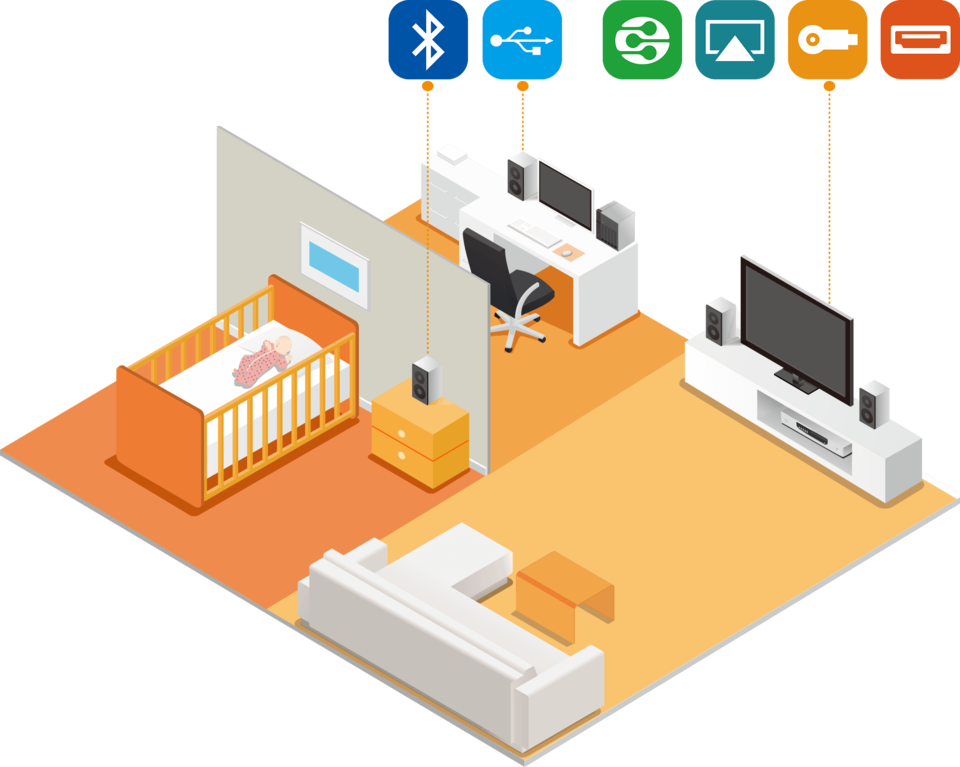 Qsirch – A smarter, faster way to search
Quickly and easily find documents, photos, videos, and music with Qsirch, QNAP's new built-in NAS search application lets you find what you need by real-time, natural search. Simply type in as much as you know about what you are trying to find, including parts of the file name or even words/phrases in the document, and Qsirch will display a list of matches, complete with thumbnails, as you type. Qsirch even remembers your search history so you can quickly navigate to files you've previously searched for. Qsirch is a huge productivity boost that greatly reduces the amount of time spent looking for files on the NAS so you can focus on other tasks.
Cross-platform file sharing, centralized data storage
The TS-451+ supports SMB/CIFS, NFS, and AFP protocols for file sharing across Windows®, Mac® and Linux®/UNIX®. Data, logs and ISO image of CDs and DVDs can be centrally stored in the TS-451+ and protected by an integrated antivirus solution.
File Station integrated with cloud services
The web-based File Station enables you to easily upload, download, and manage files on your TS-451+ wherever there is an internet connection. Supporting file extraction, folder creation, and smart search for files and folders, the File Station also allows you to easily share files with colleagues and friends via unique URLs, email, and a shared space. What's even better, you can also directly browse and transfer files between the TS-451+ and public cloud services like Google Drive™, Dropbox®, Microsoft® OneDrive, Box®, Yandex® Disk and Amazon® Cloud Drive through File Station, and view files with Office Online and Google Docs™ or directly open them with a Google Chrome™ office extension.
CPU
Quad-core Intel® Celeron® 2.0GHz (burst up to 2.42GHz)

Floating Point Unit

V
GPU
Intel® HD Graphics
Hardware-Acclerated Transcoding
V
Memory
System memory:

TS-451+-2G: 2GB DDR3L RAM (1 x 2GB)
TS-451+-8G: 8GB DDR3L RAM (2 x 4GB)

Total memory slots: 2 SODIMM
Expandable up to: 8 GB

NOTE:
1. When installing two memory modules, please ensure that they are the same size and ideally use the same type of RAM for both memory slots.
2. For the information of RAM module installation and compatible NAS models, please refer to the QNAP RAM Module Installation Guide
Flash Memory
512MB
Drive
4 x 2.5" or 3.5" SATA 6Gb/s, 3Gb/s HDD or SSD; hot swappable trays

NOTE:
For the HDD compatibility list, please visit https://www.qnap.com/compatibility
Expansion Unit
Max. 1 (UX-800P, UX-500P)
Gigabit LAN Ports
2
USB
2 x USB 3.0 (Front: 1, Rear: 1)
2 x USB 2.0 (Rear)
IR Receiver
Yes (QNAP RM-IR002 remote control)
HDMI
1
LED Indicators
Power/Status, LAN, USB, HDD1-4
Buttons
Power, Reset, USB Auto Copy
Alarm Buzzer
System warning
Form Factor
Tower
Dimensions (HxWxD)
169 x 160 x 219 mm
6.65 x 6.3 x 8.62 inch
Weight (Net / Gross)
3 kg (6.61 lbs) / 4.3 kg (9.48 lbs)
System Fan
1 x 12cm, 12V DC
Kensington Security Slot
1
Power Supply
External Power Adapter, 90W, 100-240V
Power Consumption (W)
S3 sleep: 0.57
HDD standby: 15.78
In operation (typical): 33.88
Sound Level*
Sound pressure (LpAm) :16.9 dB(A)
Temperature
0 - 40 °C
Humidity
5~95% RH non-condensing, wet bulb: 27°C