4 Bay QNAP TS-431P Gigabit NAS Unit
Web ID: 22797
The TS-431P is a powerful yet easy-to-use network storage center for backup, synchronization, remote access, and home entertainment with many feature-rich apps available, including Notes Station (create digital notes on a secure private cloud and share with colleagues and friends), QmailAgent (centralize email account management and back up emails), and Qcontactz (centrally store and manage contact information). ONLY WHILE STOCKS LAST!
Manufacturer Warranty: 2 Year
Manufacturer PN: TS-431P
GTIN: 885022011834
Manufacturer Website
The TS-431P is a powerful yet easy-to-use network storage center for backup, synchronization, remote access, and home entertainment with many feature-rich apps available, including Notes Station (create digital notes on a secure private cloud and share with colleagues and friends), QmailAgent (centralize email account management and back up emails), and Qcontactz (centrally store and manage contact information). All these apps (and more) are available at no extra cost. The dual-core TS-431P features three USB 3.0 ports and dual LAN ports, delivering outstanding multitasking performance to enhance your productivity & digital life and offering an ideal storage and backup center as a secure private cloud.
Centralizes file storage, sharing and backup with excellent performance
Full NAS encryption using volume-based technology and hardware acceleration
Supports QmailAgent as a mailroom center and Qcontactz for centralizing contact information
Synchronize files between the TS-431P, computers, laptops, and mobile devices
Stream your multimedia library via DLNA®, AirPlay® & Chromecast™
Build a surveillance center to safeguard your home and office

Dual-core processor delivers high performance
Equipped with an AnnapurnaLabs, an Amazon company Alpine AL-212 dual-core 1.7 GHz Cortex-A15 processor and 1GB DDR3 RAM, the TS-431P is a high-performance NAS for home, workgroups and SOHO users providing outstanding performance of up to 223 MB/s read & 172 MB/s write throughput. The TS-431P's enhanced hardware-based encryption and decryption engine provides transfer speeds of over 190 MB/s with AES 256-bit full NAS volume encryption, boosting system performance & security while ensuring the safety of sensitive personal data stored in the NAS. When used with a compatible 802.11ac or dual-band 2.4GHz/5GHz 802.11n USB Wi-Fi adapter, the TS-431P becomes an ideal media center with remarkably high speeds for transferring a large amount of files and streaming bandwidth-intensive multimedia.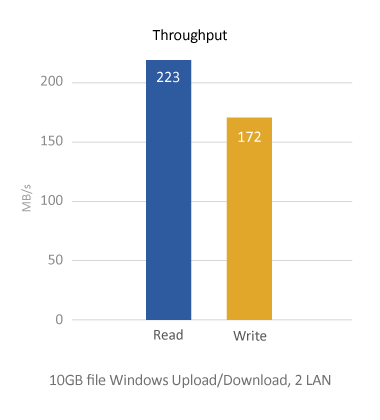 Tested in QNAP Labs. Figures may vary by environment.
Testenvironment:
NAS:
OS: QTS4.2.2
Volume type: RAID 5; 4 x Seagate ST1000NM0033-9ZM173 1TB HDDs: NAS and PCs areconnected
Client PCs:
Intel (R) Core (TM) i7-4790 CPU @3.60GHz CPU; DDR3 1600Hz 16GB; Seagate Barracuda ST500DM002 500GB;
Intel Gigabit CT( MTU 1500 ) ; Microsoft Windows 10 64bit
IOMeter configuration: Multiple PCs via switch. Transferring 32GB filecontinuously to NAS for 3 minutes. Block size: 64KB for SMB2.0
Fast Disaster Recovery with Snapshots
The TS-431P supports block-based Snapshots, which can record and save the state of the file system and the metadata of the files outside the file system at any time. In the event of an unexpected NAS failure or if struck by a ransomware attack, the snapshots remain intact, allowing you to quickly and easily restore the system back to a previous normal state. You can preserve and restore multiple versions of the same file, folder or even the entire volume. The TS-431P supports up to 64 snapshots per volume or LUN (up to 256 in total). Snapshot Replica facilitates double protection that replicates snapshots to a remote QNAP NAS or server.
Note: The Snapshots feature will be available from QTS 4.3.4.


High Efficiency with dual LAN support
The TS-431P supports multiple port-trunking modes, enabling administrators to set up link aggregation to increase total data transmission potential. Failover and dual IP are also supported to ensure continuous system operations. Supported port-trunking modes include: Balance-rr (Round-Robin), Active Backup, Balance XOR, Broadcast, IEEE 802.3ad, Balance-tlb (Adaptive Transmit Load Balancing) and Balance-alb (Adaptive Load Balancing).
Enhance productivity with multiple USB 3.0 ports
Equipped with three SuperSpeed USB 3.0 ports, the TS-431P allows you to flexibly arrange tasks with a wide range of external devices without interrupting your current workflow. You can back up files to USB drives, access data stored on SD cards via USB card readers, share up to 3 printers via network, and connect to a UPS to ensure a continual power supply.
QTS - Simple and efficient
Thanks to the intuitive user interface of QTS, your NAS experience is smarter, smoother and spectacular. Its modern flat design streamlines loading times, and the intelligent desktop allows you to find desired functions quickly, create desktop shortcuts or group shortcuts, monitor important system information on a real-time basis, and open multiple application windows to run multiple tasks concurrently, bringing greater working efficiency. QTS breaks the barriers of devices, platforms and geography to bring optimized cloud experiences to you.
Create digital notes on your private cloud
The revamped Notes Station features an optimized interface for a smoother user experience. Notes Station allows users to collectively write documents and helps users to track changes by retaining the revision history of documents. Notes Station provides useful image-editing tools, helping you create well-designed documents. You can also create sharing links to share documents in real time. Documents can also be encrypted to prevent unauthorized access, and snapshot backup is provided to retain different versions of documents from different time periods. With its importing/exporting and full-site backup functions, Notes Station supports backing up your documents to local or remote QNAP NAS.
Note: Notes Station 3 will be available from QTS 4.3

CPU
AnnapurnaLabs, an Amazon company Alpine AL-212, 2-core, 1.7GHz
System Memory
1GB DDR3 RAM
Flash Memory
512MB NAND flash
Hard Drive Tray
4
Drive Interface
SATA 3.5"/2.5" 6Gb/s HDD/SSD ; Hot-swappable
USB
3 x USB 3.0 port (Front x1; Rear x 2)
LAN Port
2 x GbE RJ45
LED Indicators
System Status, HDD, USB, LAN
Buttons
Power, Reset, USB One-Touch-Copy
System Warning
Buzzer
Form Factor
Tower
Dimensions (H) x (W) x (D)
169 x 160 x 219 mm
6.65 x 6.3 x 8.62 inch
Weight
Net: 3 kg (6.61 lbs); Gross: 4.3 kg (9.48 lbs)
Operating Temperature
0 - 40°C / 32~104°F
Relative Humidity
5~95% non-condensing, wet bulb: 27°C
Power Supply
AC adapter, 90W, 100 - 240V
Power Consumption
HDD standby: 11.65W
In operation: 26.7W
(with 4 x 1TB HDD installed)
Sound Level*
Operating low speed: 19.5 dB(A)
Security Design
Kensington security slot
Fan
1 x 12 cm smart fan (12V DC)