35" AOC AGON AG352QCX LED Curved Gaming Monitor with Speakers and Height Adjust
Web ID: 20431
The AOC AG352QCX gaming monitor features a 35" screen, AMD FreeSync, 200Hz refresh rate and an array of other functions. Specially designed for gaming, it's the ultimate monitor for bringing out the best of any player. 2560 x 1080 @ 200Hz, 4ms (GtG), D-Sub (VGA), DVI Dual-Link, HDMI 2.0, DisplayPort 1.2
Manufacturer Warranty: 3 Year
Manufacturer PN: AG352QCX
GTIN: 4717385944169
Manufacturer Website
More Excited and Comfortable Visual Enjoyment.
Human eyes is curved and limited for viewing angle area, so curvature is very suitable for human eyes and reducing eye fatigue.
AMD FreeSync technology synchronizes the GPU and the monitor so frames are displayed when ready: no tearing or stuttering.
High performance solution with all the benefits of variable refresh rate technology.
Based on industry standards, not expensive proprietary solutions.
Cheaper and easier to implement: no additional monitor hardware, no license fees.
Cheaper for consumers.
Support multiple use cases: Gaming, Video, Power Saving.
AOC Shadow Control enables fast contrast adjustment of overly dark or bright areas through the OSD menu, while retaining quality on more balanced areas on-screen.



Agon provide the different level for "Low Blue Light", for the different user scenario.
Most LED monitors use PWM (pulse width modulation) to control brightness; the pulsing creates flicker that may cause discomfort, headaches and eye strain, especially in low-light environments. Flicker Free technology uses a smooth DC (direct current) backlight system.
Low Input Lag reduces delay between signal input (via keyboard, mouse or otherwise) and image processing on the screen to ensure a smoother gaming experience.
Conventional 60Hz monitors can show distracting motion blur when displaying games with rapid movement. Ultra-fast 200Hz refresh rate combine to enable sharper action.

Conventional 60Hz monitors can show distracting motion blur when displaying games with rapid movement.

Ultra-fast 200Hz refresh rate and 1ms screen response time combine to enable sharper and more responsive action.
Many gamers have the misconception that 200Hz monitors are only needed for FPS gameplay. However, this isn't the case.

Smoother visuals aside, 200Hz monitors also reduce any delays between physical mouse movement and on-screen depiction. 200Hz monitors refresh on-screen images 200 times per second for sharper, cleaner movements. Compared to a 60Hz display, the result is much-improved mouse movement fluidity and precision. This is useful for micromanaging units better in RTS games or winning action-packed team fights in MOBA games, for example. It is also an advantage recognized by many pro gamers.

Case in point: in 2016 during the Valve-sponsored Dota2 Shanghai Major tournament, players complained that the only monitors available at the time were 60Hz. Sponsors ended up providing new 144Hz monitors on short notice for the tournament to continue smoothly.
Effects lighting on the back panel can be changed to red, green or blue, to suit the mood of play, or match team colours at gaming events.
The AG352QCX's fully adjustable stand allows convenient adjustment of the screen's height and angle. Match the screen's position to your chair position, height, and line of sight for a comfortable playing experience.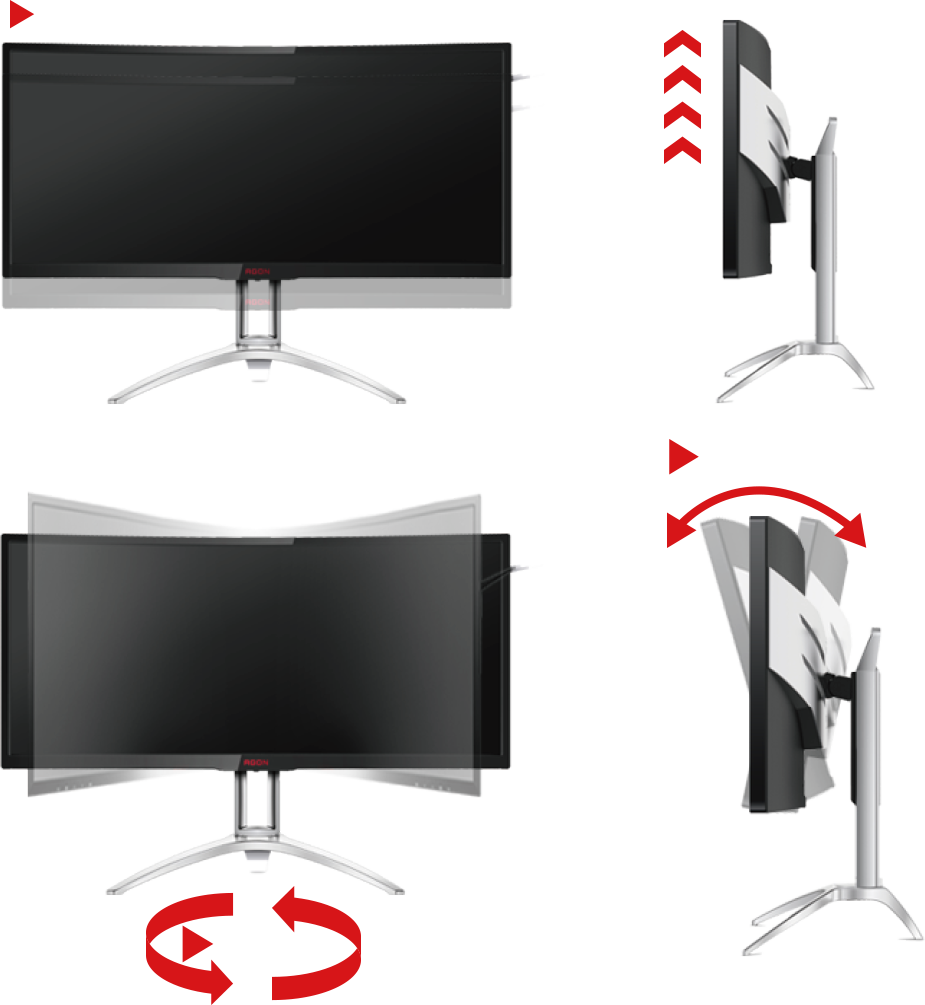 Model Name
AG352QCX
LCD Panel Type
VA
Panel Size
35"
Effective Viewing Area
819.84(H)x345.87(V)mm
Aspect Ratio
21:9
Maximum Resolution
2560 x 1080 @ 200Hz
Smart Response Time
4ms (GtG)
Brightness (typical)
300 cd/m²
Contrast Ratio (typical)
2000:1
Dynamic Contrast Ratio
80M:1
Viewing angle
178°(H)/178°(V)
Display Colours
16.7 Million
Scanning Frequency
D-Sub:30~160KHz (H); 50-146Hz(V)
HDMI2.0/DP: 30~240KHz (H);48-202Hz(V)
Signal Input
DP 1.2 / HDMI 2.0 / DVI Dual-Link/D-Sub
USB
2 x USB 3.0 with one fast charging
Audio In/Out
Audio Line In, Headset (earphone combined with microphone), Microphone In, Microphone Out
Built-in Speakers
5W
Ergonomic
5.5° ±1° ~ 28° ±1.5°
Power
Power Source 100- 240V 50/60Hz
Power Consumption
On: 48W
Standby: 0.5W
Off: 0.5W
Power Supply 20VDC 6A
Dimensions
Product with stand 847W x 587H x266.45Dmm
Packaging 980W*300D*527H
Weight 11.8 kg wo/packaging; 15.3 kg w/packaging
figure { display: inline; }