32" LG | 32QK500-C | IPS QHD Monitor
Web ID: 26758
LG Monitor QHD (2560 x 1440) with IPS technology delivers a clearer and consistent true colour. Response times are shortened, colour reproduction is improved, and users can view the screen at virtually any angle. 2 x HDMI, DisplayPort ONLY WHILE STOCKS LAST!
Manufacturer Warranty: 3 Year
Manufacturer PN: 32QK500-C
GTIN: 8806098585342
Manufacturer Website
31.5" QHD IPS Monitor
True Colour at Any Angle
LG Monitor with IPS technology delivers a clearer and consistent true colour. Response times are shortened, colour reproduction is improved, and users can view the screen at virtually any angle.
AMD Radeon FreeSync™
Clearer, Smoother Image
With Radeon FreeSync™ technology, you can experience seamless, fluid movement throughout hi-res, fast-paced games. Radeon FreeSync™ virtually eliminates screen tearing and stuttering.
Dynamic Action Sync
React Faster to Opponents
Minimize input lag with Dynamic Action Sync so you can catch every single moment in real-time.
Black Stabilizer
Attack First in Dark
Users can avoid snipers hiding in the darkest places and quickly escape situations when the flash explodes.
Crosshair
Better Aim
Target point is fixed in the center to enhance shooting accuracy.
Reader Mode
Less Blue, Improved Visual Comfort
Reducing blue light to help lessen eye fatigue, Reader Mode provides optimal condition for reading. With just a few movement of joystick control, you can more comfortably read your monitor screen.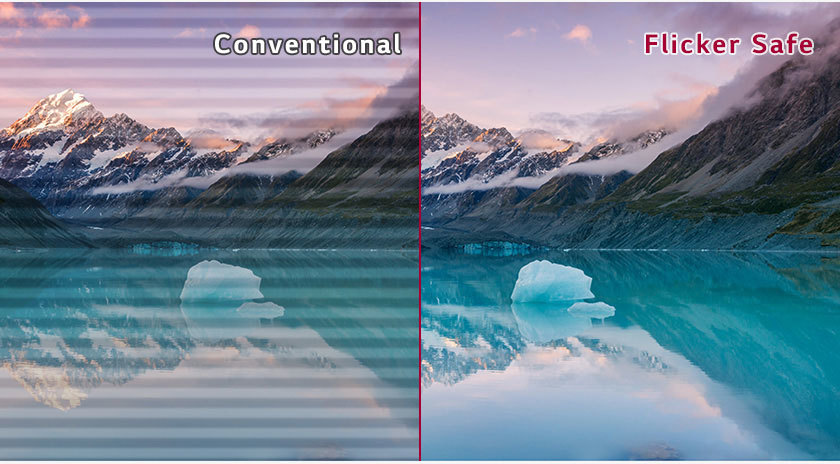 Flicker Safe
Reduces Visual Fatigue
Flicker Safe reduces the onscreen flicker level to almost zero, which helps protect your eyes. User can comfortably work throughout the day.
Multi Ports
A Variety of Interfaces
This monitor supports various interfaces. DisplayPort, micro DisplayPort and HDMI ensure fast data transfer and a smooth display, Headphone out port support hardware connectivity.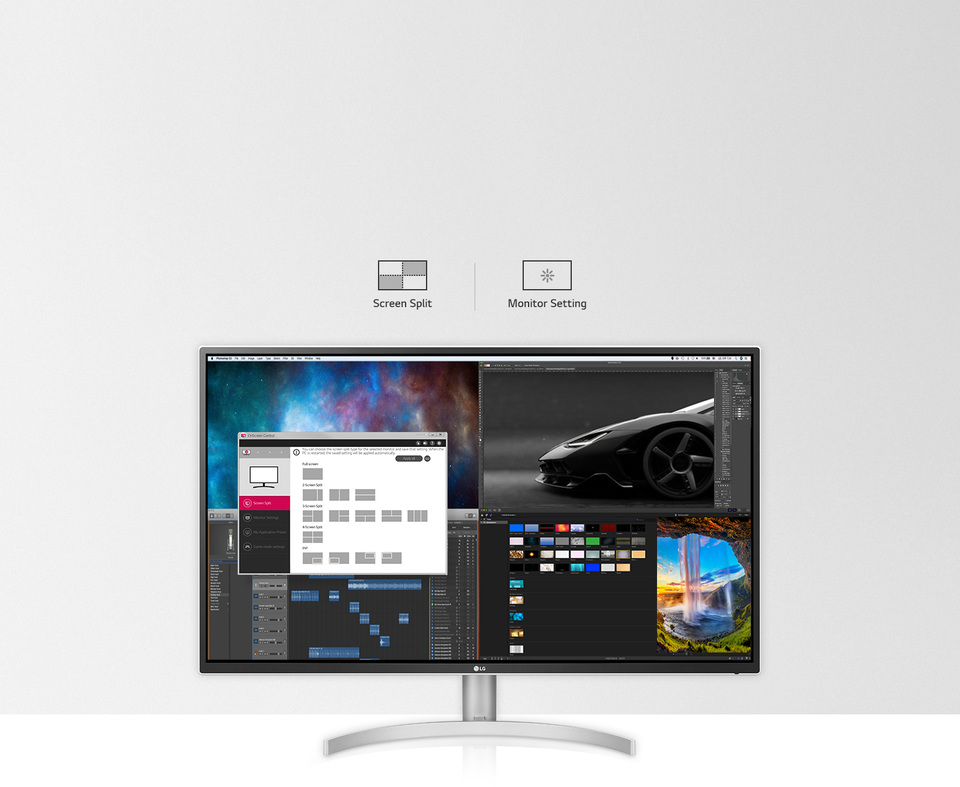 OnScreen Control
Easier User Interface
You can customize the workspace by splitting the display or adjusting basic monitor options with just a few mouse clicks.
*To download the latest OnScreen Control, visit LG.COM.
*The product images and OnScreen Control in the video are for illustrational purposes only and might differ from the real product and Actual OnScreen Control.
Edge-ArcLine Stand
Versatile Elegance
The Curved base enhances stability for dependable performance. And the sleek Edge-ArcLine stand offers more efficiency on space saving compared to the conventional stand that used to take up a lot of space on the desk.
Wall Mountable
Convenient and Flexible
This monitor gives you the freedom to take it off the desk and hang it on the wall. Liberate your viewing options and save desktop space with this wall-mountable LG monitor.