27" MSI Optix MAG274QRF QHD 165Hz Rapid IPS G-Sync Gaming Monitor
Web ID: 29488
Visualize your victory with MSI Optix MAG274QRF eSports gaming monitor. Equipped with a 2560x1440, 165hz Refresh rate, 1ms GTG response time panel, Optix MAG274QRF will give you the competitive edge you need to take down your opponents. Enjoy extremely smooth, tear-free gameplay with built-in NVIDIA G-Sync Compatible technology when paired with a compatible 2 x HDMI (2.0b), 1 x Display Port (1.4), 1x Type C (DP alt.) CASH PRICE
Manufacturer Warranty: 3 Year
Manufacturer PN: MAG274QRF
GTIN: 824142225288
Manufacturer Website
Conquer the Battlefield
The MAG series was born through rigorous quality testing and designed to be a symbol of sturdiness and durability. Focused on providing the best user experience, the MAG series has a simple installation process coupled with a friendly user interface making it the best choice for entry level gamers.
Visualize your victory with MSI Optix MAG274QRF eSports gaming monitor. Equipped with a 2560x1440, 165hz Refresh rate, 1ms GTG response time panel, Optix MAG274QRF will give you the competitive edge you need to take down your opponents. Enjoy extremely smooth, tear-free gameplay with built-in NVIDIA G-Sync Compatible technology when paired with a compatible NVIDIA graphics card.
see every moment at its clearest
Rapid IPS display provides gamers with an ultra-fast 1ms GTG response time, which will significantly reduce monitor blur occurrence. The crystal clear image will certainly give you a competitive edge for precise decisions in fast-moving games.
age crossing technological breakthrough
The liquid crystal molecules of Rapid IPS display rotate as fast as the tornado. With the speed going up to 4x faster than normal liquid crystal molecules, the response time can be shortened to 1ms GTG (gray to gray) to eliminate monitor blur and provide crystal clear images.
THIS IS COLOR
Optix series gaming monitor is equipped with an IPS panel that produces no image distortion and minimum color shifts when viewed from different angles. Additionally, the IPS panel will offer clear images and instantly optimize screen color and brightness to ensure that you enjoy every scene at its best.
VIEW WIDER, FIGHT BETTER
The Optix series eSports gaming monitor feature a WQHD panel that supports resolution up to 2560x1440. This 16:9 panel allows gamers to examine bigger game scenes compared to other traditional FHD panels, and put them ahead of other competitors.
165HZ REFRESH RATE + 1MS gtg RESPONSE TIME
Optix monitors are equipped with a 165hz refresh rate and 1ms GTG response time panel which has the most benefit in fast moving game genres such as first person shooters, fighters, racing sims, real-time strategy, and sports. These type of games require very fast and precise movements, which an ultra-high refresh rate and fast response time monitor will put you ahead of your competition.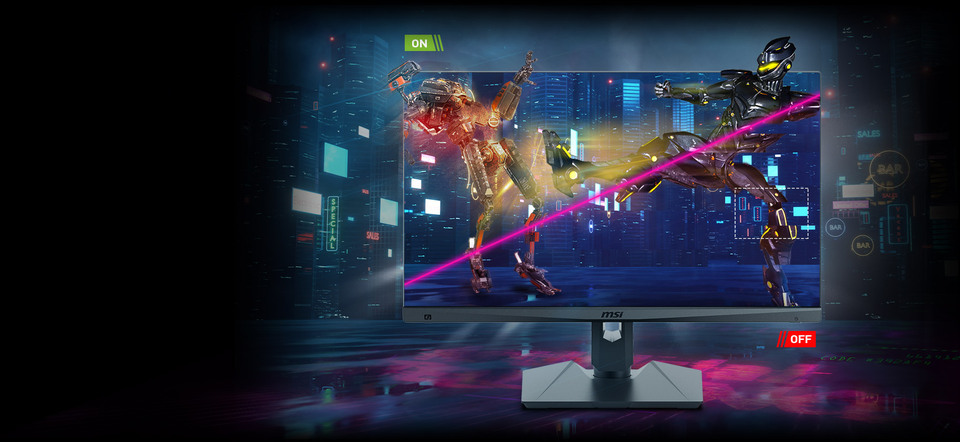 PERFECTION FOR ANY Refresh Rate
Take on any game without tearing, stuttering, flicker, or artifacts. G-SYNC compatible dynamically matches the refresh rate of the display to the frame rate of the GPU. Unlike other solutions, its unrestricted refresh rate supports from zero Hertz up to the maximum supported by the LCD panel—so you can count on exceptional performance in every game.
Gaming OSD APP 2.0
With the Gaming OSD app it is very easy to setup your gaming monitor. Just use your Keyboard and Mouse to configure your monitor. The app even gives you hotkey options so you can switch settings between different games in a ease.
TAILORED FOR THE PERFECT FIT
The MSI Optix Gaming monitor is built to make you as comfortable as possible while gaming. Through adjustments of tilting (-5°~20°), lowering and raising (0~100mm), swiveling (-75°~75°) and pivoting (-90°~90°), you can easily change the position of the monitor for maximum ergonomics and optimum viewing experiences.
Lower

Raise

Tilt

Swivel

Pivot
The most
Vivid Display
The Optix series gaming monitor is equipped with HDR technology which produces images with more details, a wide range of color, and appears more similar to what is seen by the human eye when compared to traditional monitors.
© CAPCOM CO.,LTD. 2019 ALL RIGHTS RESERVED.
Personalize Your Gaming Rig
With MSI Mystic Light, the Optix MAG series gaming monitor lights provide a soft ambient light that can easily be synced with any other Mystic Light enabled gaming product. Select any of the colors from the palette using your smartphone or the Mystic Light App to match your system style to your taste. Or just turn on gaming echo, letting your monitor back light dance to music you play on the computer.
*This image is for illustrative purposes only.
Universal Type-C Connection
This MSI Optix gaming monitor supports USB Type-C connection, allowing you to power your devices (up to 15W) and effortlessly connect to any device.
1x Display Port (1.4)
2x HDMI (2.0b)
1x Type C (DP alt.)
2x USB 2.0 Type A
1x USB 2.0 Type B
5-way OSD navigation joystick
External Adaptor 19V 3.42A
90.9 to 242.4KHz (H)
30 to 165Hz (V)
614.9 x 532.7 x 206.7 mm / 24.21 x 20.97 x 8.14 inch
730 x 490 x 220 mm / 28.74 x 19.29 x 8.66 inch
6.05kg / 8.7kg
13.34lbs / 19.18lbs
Display Port: 2560 x 1440 (Up to 165Hz)
Type C (DP alt.): 2560 x 1440 (Up to 165Hz)
HDMI: 2560 x 1440 (Up to 144Hz)
The color gamut follows the CIE 1976 testing standard.