25" LG 25UM58-P IPS Ultrawide LED Monitor
Web ID: 21168
2560 x 1080 Resolution, The UltraWide 21:9 aspect ratio makes games and movies more immersive than ever. The clarity of 1080p pixel Full HD resolution with IPS is a game-changer. Simply put, from any viewing angle, everything looks more crisp and detailed in Full HD, 2 x HDMI 2.0 Ports ONLY WHILE STOCKS LAST!
Manufacturer Warranty: 3 Year
Manufacturer PN: 25UM58-P
GTIN: 719192199156
Manufacturer Website
21:9 ULTRAWIDE® FULL HD IPS DISPLAY
The UltraWide 21:9 aspect ratio makes games and movies more immersive than ever. The clarity of 1080p pixel Full HD resolution with IPS is a game-changer. Simply put, from any viewing angle, everything looks more crisp and detailed in Full HD.
GAME MODE
Set your game mode optimal gaming conditions. There are 3 gamer modes, 2 First-Person-Shooter modes and even and RTS pre-set mode so you can choose the best mode for you.
ADVANCED GAMING FEATURES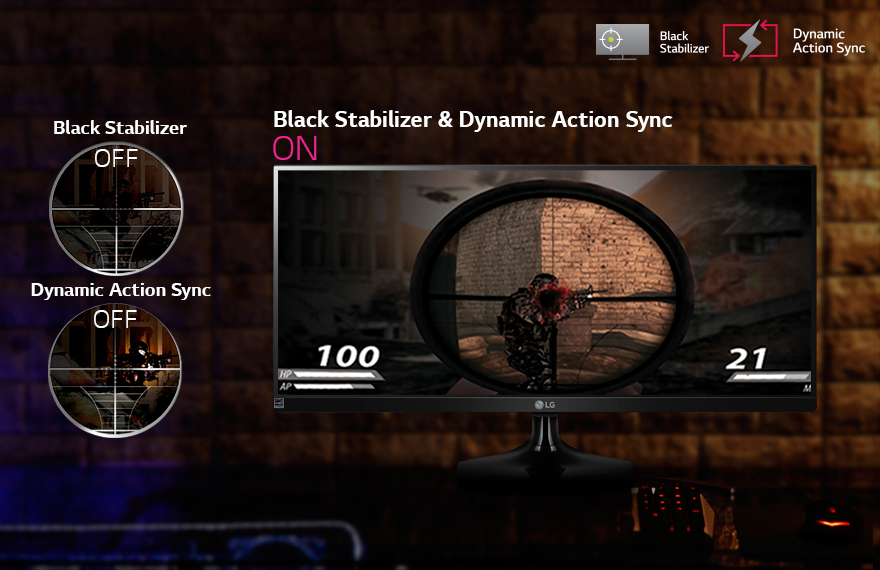 Serious gaming features for serious gamers. Quickly optimize monitor settings to activate Black Stabilizer to reveal superior detail in dark scenes while the Dynamic Action Sync feature assures smooth, fluid gaming action.
SRGB OVER 99%
sRGB is the standard color space of ideal color reproduction. So, with over 99% coverage of the sRGB spectrum, this LG monitor is a great solution for professional photographers, graphic designers or anyone looking for highly accurate color.*
SCREEN SPLIT 2.0
Customize your monitor layout for multitasking with the latest version of LG Screen Split. Resize and display multiple windows at once, with 14 options including four different picture-in-picture (PIP) choices.
ON-SCREEN CONTROL
On-Screen Control puts a host of essential monitor settings into a handy window for quick, easy access. Volume, brightness, picture mode presets, Screen Split 2.0 and Dual Controller and more can now be adjusted with just a few clicks of the mouse, instead of hard buttons on the monitor.
ACTUALLY, TOP GAMES HAVE MOVED ON TO THE 21:9 FIELD OF VIEW
Growing number of game enthusiasts are tuning into what 21:9 offers for their virtual adrenaline rush. Most of them recognize that 21:9 is just better, realistic, immersive space for their field of view. But back in a while concerns were more about the game industry; would there be enough games to play on 21:9? Well, game makers definitely have stepped up and turning more of their latest with 21:9 view ratio. Just take a look at the names of the games on the list. These are not just any games, but top-notch international best & steady sellers.
Design, features and specifications subject to change without notice. Screen images simulated and/or dramatized. Some features in videos may not be available on all models. Please refer to the TECHNICAL SPECIFICATIONS tab for a complete list of features by model.