23.6" MSI Optix MAG241CR RGB Curved 144Hz Gaming Monitor
Web ID: 25573
Visualize your victory with the MSI Optix MAG241CR curved gaming monitor. Equipped with a 1920x1080, 144hz Refresh rate, 1ms response time panel, the Optix MAG241CR will give you the competitive edge you need to take down your opponents. Built with FreeSync technology, the MAG241CR can match the display's refresh rate with your GPU for ultra-smooth gameplay. Make sure you can hit your mark with all the latest technologies built-in the MSI Curved Gaming monitors for competitive play. ONLY WHILE STOCKS LAST!
Manufacturer Warranty: 3 Year
Manufacturer PN: MAG241CR
GTIN: 824142165737
Manufacturer Website

Visualize your victory with the MSI Optix MAG241CR curved gaming monitor. Equipped with a 1920x1080, 144hz Refresh rate, 1ms response time panel, the Optix MAG241CR will give you the competitive edge you need to take down your opponents. Built with FreeSync technology, the MAG241CR can match the display's refresh rate with your GPU for ultra-smooth gameplay. Make sure you can hit your mark with all the latest technologies built-in the MSI Curved Gaming monitors for competitive play.
CURVED FOR YOUR VIEWING PLEASURE
MSI gaming monitors use a curved display panel that has a curvature rate of 1500R, which is the most comfortable and suitable for a wide range of applications from general computing to gaming. Curved panels also help with gameplay immersion, making you feel more connected to the entire experience.
144HZ REFRESH RATE + 1MS RESPONSE TIME
MSI gaming monitors are equipped with a 144hz refresh rate + 1ms response time VA LED panel which has the most benefit in fast moving game genres such as first person shooters, fighters, racing sims, real-time strategy, and sports. These type of games require very fast and precise movements, which an ultra-high refresh rate and fast response time monitor will put you ahead of your competition.
GAMING OSD APP ADVANTAGES
With the Gaming OSD (on screen display) app it is very easy to setup your gaming monitor. You don't need use the buttons on the monitor and go through all the menu's, just use your Keyboard and Mouse to configurate your monitor. The app even gives you hotkey options so you can switch settings between different games in a ease.
Download
MSI REMOTE DISPLAY
Control Your Curved Gaming Monitor with MSI Remote Display APP on Android Smartphone. Allow you to control the contrast ratio, brightness and black equalizer, etc., right from your Android phone.
*Compatibility may vary depending on the product model and region.
ALWAYS READY
FOR ACTION
Keep your headset in a easy to access space with the built-in headset hanger. Game on and be fully immersed at a moment's notice.
PERSONALIZE YOUR GAMING RIG
Customize and set up your own color scheme through the MSI GAMING APP. With MSI Mystic Light, the Optix MAG241CR's RGB lights provide a soft ambient light that can easily be synced with any other Mystic Light enabled gaming product. Select any of the colors from the palette using your smartphone or the Mystic Light App to match your system style to your taste.Or just turn on gaming echo, letting your monitor back light dance to music you play on the computer.
TAILORED FOR THE PERFECT FIT
The MSI Optix Gaming monitor is built to enhance your gaming sessions to be as comfortable as possible. With adjustments to tilt and height, easily change the position of the gaming monitor for maximum ergonomics and optimum viewing experience.
FROM EDGE TO EDGE
With a super narrow bezel, enjoy the best immersion possible in the latest games with a multi-monitor 180 degree setup. Enjoy better continuity between screens while playing games, working, or general computing.
SMOOTH OUT YOUR GAMEPLAY WITH AMD® FREESYNC
MSI Gaming monitors are built with AMD® FreeSync technology to create the smoothest visuals for your gameplay. To do this, AMD® FreeSync will sync your monitors refresh rate to your AMD® GPU, which helps to eliminate screen tearing or stuttering. Enjoy the game the way it was meant to be enjoyed with ultra-smooth, lag-free visuals.
*Note: AMD® FreeSync requires a compatible AMD® GPU to be enabled. For more information: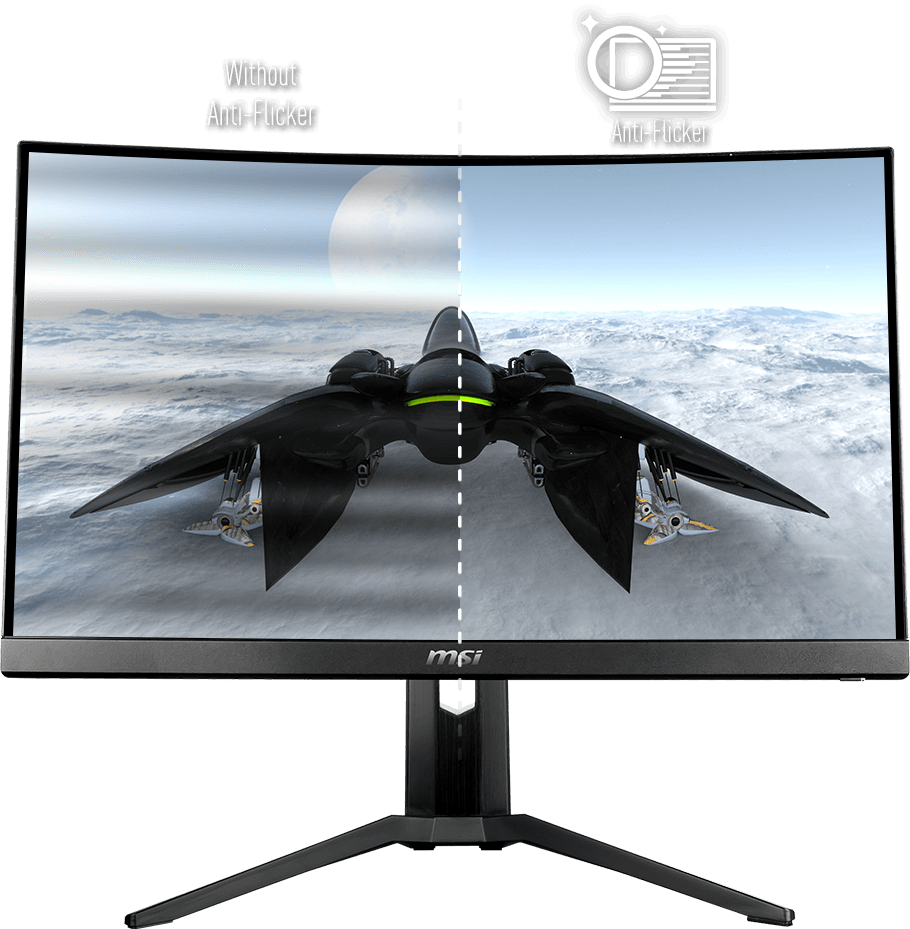 ANTI-FLICKER TECHNOLOGY
Generic monitor displays normally have a flicker-rate of about 200-times per second, which is unnoticeable to the naked eye, but can cause fatigue over time. MSI Anti-Flicker technology provides a very comfortable viewing experience by reducing the amount of flicker.
BLUE LIGHT REDUCTION
MSI gaming monitors are optimized to reduce the strain on your eyes by reducing the total amount of blue light displayed by the monitor to ensure you can game for longer periods of time without fatigue.
GENERAL LCD
OPTIX MAG241CR LESS BLUE LIGHT

PANEL SIZE
PANEL RESOLUTION
REFRESH RATE
RESPONSE TIME
PANEL TYPE
BRIGHTNESS (NITS)
VIEWING ANGLE
ASPECT RATIO
CURVATURE
CONTRAST RATIO
DCR
ACTIVE DISPLAY AREA (MM)
PIXEL PITCH (H X V)
SURFACE TREATMENT
DISPLAY COLORS
DCI-P3 / SRGB
VIDEO PORTS
USB PORTS
AUDIO PORTS
KENSINGTON LOCK
VESA MOUNTING
CONTROL
POWER TYPE
POWER INPUT
SIGNAL FREQUENCY
ADJUSTMENT (TILT)
ADJUSTMENT (HEIGHT)
DIMENSION (W X H X D)
WEIGHT (NW / GW)
NOTE
23.6"
1920 x 1080
144Hz
1ms (MPRT)
VA
300
178°
16:9
1500R
3000:1
100000000:1
521.3952(H) x 293.2848(V)
0.27156(H) x 0.27156 (V)
Anti-glare
16.7M
90% / Up ot 115%
1x DP
2X HDMI (1.4)
2 x USB 2.0
1 x USB 2.0 Type B (PC to Monitor)
1 x Earphone out
Yes
100 x 100 mm
5-way OSD navigation joystick
Internal Adaptor
100~240V, 50~60Hz
55.3 to 162KHz(H)
48 to 144Hz(V)
-5° ~ -20°
0 ~ 130 mm
536.4 x 531 x 231 mm / 21.1 x 21 x 9 inch
5.1 kg / 7.3 kg
Display Port: 1920 x 1080 (Up to 144Hz)
HDMI: 1920 x 1080 (Up to 144Hz)
The color gamut follows the CIE 1976 testing standard.