2 Bay QNAP TS-253BE-4G Gigabit NAS Unit
Web ID: 24376
The TS-253Be features a simple physical design that can easily fit into office and home environments. It provides a PCIe port that can boost its functionality: a QNAP QM2 expansion card can be installed to add M.2 SSD caching/10GbE connectivity and support for Qtier auto-tiering technology, or a compatible wireless card can be installed to use the TS-253Be as a wireless access point. ONLY WHILE STOCKS LAST!
Manufacturer Warranty: 2 Year
Manufacturer PN: TS-253BE-4G
GTIN: 885022014408
Manufacturer Website
The TS-253Be features a simple physical design that can easily fit into office and home environments. It provides a PCIe port that can boost its functionality: a QNAP QM2 expansion card can be installed to add M.2 SSD caching/10GbE connectivity and support for Qtier auto-tiering technology, or a compatible wireless card can be installed to use the TS-253Be as a wireless access point. The TS-253Be also supports dual-channel 4K H.264/H.265 processing to provide a smooth media viewing experience on all connected devices. In addition, a wide range of productivity tools are available for use on the TS-253Be to improve work efficiency for media creators or creative professionals, while also enriching their multimedia experience.
The PCIe port supports installing a 10GbE network card, a QM2 dual-port M.2 SSD/10GbE card, a USB 3.1 10Gbps card or a compatible PCIe wireless adapter.

4K media playback and online transcoding; multimedia viewing on HDTV via HDMI output

Snapshots fully record the system status and data. If files are accidentally deleted or modified, you can quickly restore the previously-recorded data.

Hybrid Backup Sync consolidates backup and sync tasks into a single app.

Secure private cloud solution with high storage scalability.

Supports containerized applications and hosting multi-OS virtual machines.
Extend NAS functionalities with the PCIe slot
With PCIe expansion, the TS-253Be provides flexibility in extending NAS functionality and potential applications. Install a QNAP QM2 card to provide M.2 SSD caching/10GbE connectivity, or use the TS-253Be as a wireless access point by installing a compatible wireless network card (ex. QNAP QWA-AC2600), or boost the USB connectivity of the TS-253Be by installing a USB 3.1 10Gbps card.
Intel® Celeron® J3455 quad-core 1.5GHz CPU with AES-NI Encryption
Powered by an Intel® Celeron® J3455 quad-core 1.5GHz processor (burst up to 2.3 GHz), 2GB/4GB DDR3L RAM (up to 8GB), dual Gigabit LAN ports, and supporting SATA 6Gb/s hard drives, the TS-253Be provides dependable performance of up to 225 MB/s read/write speeds. The TS-253Be features Intel® AES-NI hardware-accelerated encryption to drive transfer speeds of up to 225 MB/s with AES 256-bit encryption for both full NAS volumes and shared folders, boosting system performance while ensuring the security of sensitive data stored in the TS-253Be.
File Transfer with Encryption (2 x GbE)
Sequential Throughput (2 x 10GbE, 64KB)
Tested in QNAP Labs. Figures may vary by environment.

Test Environment:
NAS:
OS:QTS 4.3.3
Volume: RAID 5; 4 x Intel S3500 240GB SSDs (SSDSC2BB240G4); QNAP LAN-10G2SF-MLX 2 ports 10GbE SFP+
Client PC:
Intel® Core™ i7-4770 3.40GHz CPU; DDR3L 1600Hz 16GB; WD 1TB WD10EZEX; Intel Gigabit CT (MTU 1500); Windows® 10 64-bit
Protect data with snapshots
Snapshots help protect your data by fully recording the NAS system state and metadata. If a file is accidentally deleted or modified, you can use snapshots to quickly restore the file to its previously-recorded state. QNAP snapshots are block-based and only record the changed data. Not only does this save storage space but also reduces the time required to back up and restore data. The TS-253Be supports up to 1,024 snapshots per NAS and up to 256 snapshots per volume or LUN.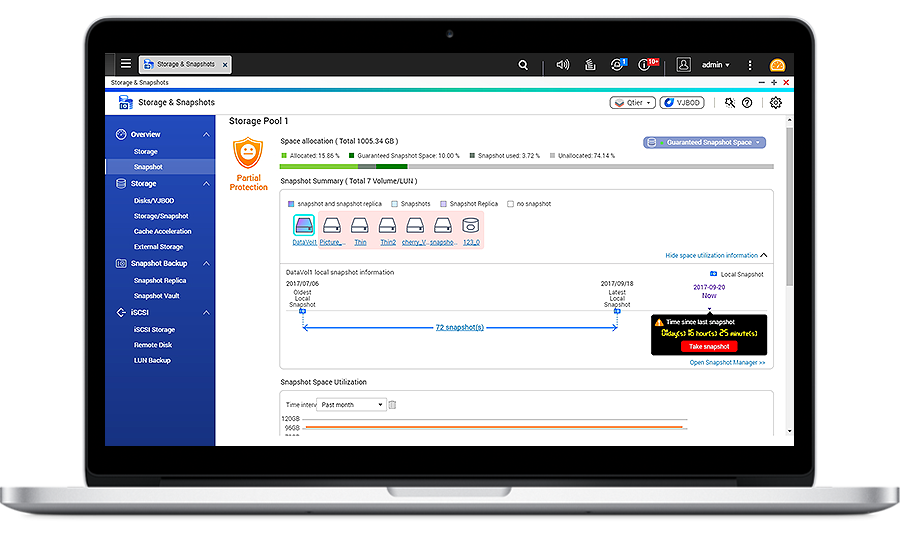 Upgrade your IT environment with QNAP's fast and affordable 10GbE Switch!
QNAP 10GbE/NBASE-T™ unmanaged switches allow you to instantly upgrade your network environment at a cost-effective price. With a 10GbE network you can enjoy blazing-fast transfer speeds, empower bandwidth-demanding tasks like virtualization, and enable simultaneous real-time access to large NAS-based files using multiple workstations (ideal for video editing and multimedia). QNAP also provide a 10GbE PCIe network expansion card for the TS-253Be and Windows®/Linux® PCs to take advantage of high-speed LAN environments.
Real-time video transcoding
Featuring advanced 9th-generation Intel® HD Graphics, the TS-253Be supports dual-channel 4K H.264/H.265 hardware decoding and real-time transcoding, allowing you to convert videos to universal file formats that can be smoothly played on multiple devices*. Therefore, you can easily share movies and videos stored on your NAS with family and friends for their enjoyment on a range of devices. The QNAP RM-IR004 remote control (sold separately) can be configured using QButton to customize the actions of individual buttons, providing a more convenient NAS experience.
*The TS-253Be's hardware provides H.264 /H.265 hardware decoding, encoding and transcoding capabilities. However, playback quality may vary due to factors including playback software, file formats, system usage, and available bandwidth.
Multiple ways to enjoy videos
QNAP provides a wide range of multimedia applications for you to easily enjoy photos, music, and videos.
QVHelper allows users to stream media files or music playlists from a QNAP NAS to VLC player.

Qmedia allows music, photos and videos to be effortlessly streamed to Android TVs or set-top boxes.

Video HD is a free KODI add-on that combines KODI's streaming and video decoding capabilities and fully supports Video Station's features.
Multiply your productivity
The app-driven QTS operating system provides solutions for simplifying file backup, management, search, and more. With File Station you can view and manage your files not only from NAS but also from multiple storage devices; the OCR Converter allows you to extract text from images; Qfiling helps automate file organization, and Qsirch helps quickly find files.
Centralized File Management

Use File Station to directly access files on USB devices - including optical disc drives. Files from different devices can be easily viewed and managed on a single interface.

File Digitization

OCR Converter extracts text from images, helping to boost productivity and making it easier to find files.

Smart Filing

Qfiling automates file organization. Files are automatically archived into folders based on your settings.

Full-text Search

Qsirch quickly finds images, music, videos, documents, emails, and other files.
CPU
Intel® Celeron® J3455 quad-core 1.5 GHz, up to 2.3 GHz
Encryption Acceleration
(AES-NI)
Graphics
Intel® HD Graphics 500
System Memory
4GB DDR3L (1 x 4GB)
Maximum Memory
8GB
Memory Slot
2 x DDR3L SODIMM slots
(For dual-DIMM configuration, you must use a pair of identical DDR3L modules.)
Drive Bay
Hot-swappable 2 x 3.5"/2.5" SATA 6Gb/s HDD/SSD
Gigabit Ethernet Port
2 x RJ45 Gigabit LAN port
10 Gigabit Ethernet Port
Optional 10 Gigabit LAN port via a PCIe expansion card
USB Port
5 x USB 3.0 Type-A ports
PCIe Slot
1 PCIe 2.0 x2 slot
HDMI Output
2 x HDMI v1.4b, up to 3840 x 2160, 30 Hz
Audio
Input: 2 x 3.5mm microphone input jacks
Output: speaker, 3.5mm line out jack
LED Indicators
Status/Power, LAN, USB, Drives
Buttons
Power, USB copy, Reset, Capacitive touch buttons (select, enter)
IR sensor
Optional QNAP RM-IR004 remote control
Security Slot
Kensington security slot
Dimensions (H x W x D)
168 x 105 x 226 mm
6.61 x 4.13 x 8.90 inch
Net Weight
1.66 kg ( 3.66 lbs )
Operating Temperature & Relative Humidity
0 ~ 40°C (32°F ~ 104°F) /
5~95% RH non-condensing, wet bulb: 27°C (80.6°F)
Power Consumption (W)
HDD sleep: 13.07W
Typical Operation: 20.42W
Power Supply Unit
65W AC adapter, 100-240V
Fan
1 x 7 cm
Package Contents
NAS, QIG, 2 x RJ45 ethernet cables, AC adapter, power cord, 2.5"/3.5"drive screw kit