2 Bay QNAP TS-228A Gigabit NAS Unit
Web ID: 24370
Equipped with a Realtek RTD1295 quad-core processor, the TS-228A provides home users with powerful features including snapshot-based backup, file synchronization, and private cloud services. The TS-228A is also a one-stop home entertainment portal for streaming photos, music, and videos to multiple devices throughout your home and beyond. ONLY WHILE STOCKS LAST!
Manufacturer Warranty: 2 Year
Manufacturer PN: TS-228A
GTIN: 885022014309
Manufacturer Website
Equipped with a Realtek RTD1295 quad-core processor, the TS-228A provides home users with powerful features including snapshot-based backup, file synchronization, and private cloud services. The TS-228A is also a one-stop home entertainment portal for streaming photos, music, and videos to multiple devices throughout your home and beyond. With energy-saving and quiet operation, the TS-228A is especially suited for home users and provides easy-to-use and convenient functionality for file storage and multimedia needs.
Qsync is an easy-to-use real-time file sync service for computers and mobile devices. With Qsync, your data can be shared across multiple locations, making file sharing even easier.

The TS-228A provides you with snapshot protection at an affordable price, allowing you to protect files and data from accidental deletion and malware attacks.

Hybrid Backup Sync gives you the freedom to set and combine multiple auto backup/sync functions to keep important data safe and to ensure peace of mind.

The three multimedia "stations" (Photo, Music, and Video) help you to effortlessly centralize, manage, organize, and browse your family's multimedia files.

Your multimedia collection can be streamed directly from the TS-228A to supported smart TVs, music players, and game consoles.

Download Station combines many popular downloading services and functions. With the power-efficient and quiet TS-228A, you can run downloading tasks for a long period of time without running up a large electricity bill.
Sleek and powerful
The TS-228A features a Realtek RTD1295 quad-core 1.4GHz processor, 1 GB RAM, and a 1GbE network port to provide performance of up to 112 MB/s. If you decide to encrypt your files with AES-256 encryption, the performance is still an impressive 112 MB/s - allowing you to ensure your privacy without sacrificing performance.
Lightweight and easy installation
The minimal and streamlined design of TS-228A makes it fit easily into your home. Featuring a unique, tool-less design, setting up the TS-228A is so easy that it doesn't even need a screwdriver!
A single NAS for cross-platform, multi-device file access and sharing
The TS-228A acts as a file exchange platform to simplify your file management across devices, and is compatible with a wide range of computers and devices (including Windows, macOS and more). For mobile devices, the Qsync suite can be installed for synchronizing and sharing files across PC, phones and tablets.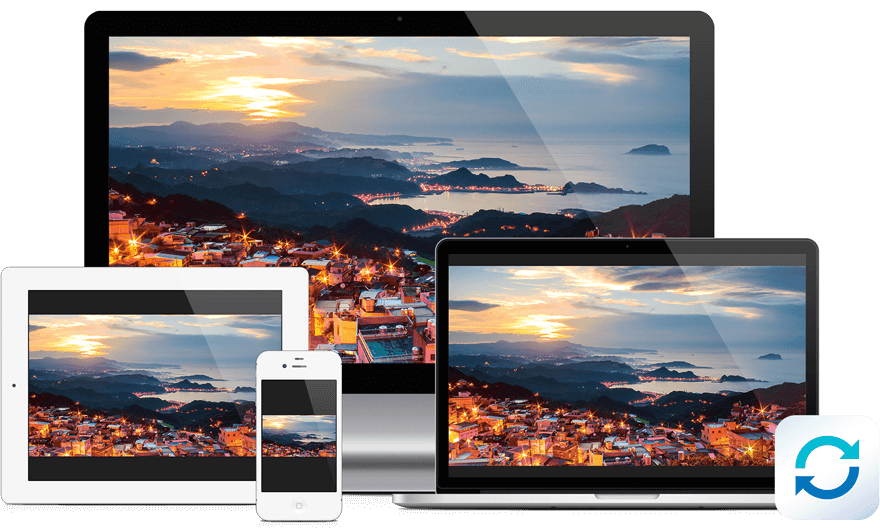 Backing up data is as easy as 1-2-3
By practicing safe computer habits and with the TS-228A handling your file backup tasks, you can rest easy knowing that your data is safe. QNAP's NetBak Replicator backup utility can assist in backing up/restoring files on a Windows® PC while macOS users can set up Time Machine to save to the TS-228A.

High-end snapshot protection for files and data
QNAP has extended support for file snapshot protection to our entry-level NAS. Snapshots were originally only possible on high-end business systems, and they allow you to record the system state and data content at a single point of time. With snapshot protection, if you accidentally delete/modify files, or if any hard disks should fail or your network is infected with malware, you can quickly restore files to a previous point in time.
Back up your files with the versatile Hybrid Backup Sync
With the TS-228A, complicated backup settings are history. You can now use Hybrid Backup Sync as your single portal for backing up, restoring, and syncing files. Supporting local NAS, remote NAS and cloud storage as both origins and destinations, you can combine multiple backup tasks to provide optimal protection for your data. Other features include scheduling, versioning, data compression and multiple-layer encryption, so your files are kept safe and sound.
360-degree panorama photo/video
Good news for adventurers! QNAP NAS now supports the popular 360-degree panorama recording format! By clicking the 360-degree panorama display button, your photos and videos will be displayed as 360-degree panorama media files.
All your downloading needs covered
With the energy-efficient and quiet TS-228A, you no longer need to use different downloading utilities or to keep your computer running all the time. Use Download Station to search for downloads and to manage your download tasks.
CPU
Realtek RTD1295 quad-core 1.4GHz processor
Architecture: 64-bit ARM A53
Hardware encryption acceleration engine
System Memory
1 GB DDR4, not expandable
Flash Memory
4GB eMMC
Drive Bay
2 x 3.5 inch SATA 6Gbps
Drive Compatibility
3.5 inch SATA drives
Gigabit Ethernet Port
1 x RJ45
USB Port
Type A; 1 x USB 3.1 Gen1 (Front); 2 x USB 2.0 (Rear)
LED Indicators
Network, disk 1, disk 2, system status, one-touch copy
Buttons
Power, reset, USB one touch copy
System Warning
Buzzer
Form Factor
Tower
Dimensions (H x W x D)
7.36 x 3.54 x 4.92 inch
187.7 x 90 x 125 mm
Weight
Net: 1.54 lbs (0.7 kg)
Gross: 4.14 lbs (1.88 kg)
Operating Temperature & Relative Humidity
0 to 40°C, 5 to 95%, non-condensing, wet bulb temperature: 27°C
Power Supply Unit
External, 65 W, AC 100 to 240 V
Power Consumption (W)
HDD standby: 5.14 W
In operation: 12.21 W
(with 2 x 1TB disks installed)
Sound Level
17.0 dB (A)
Fan
1 x 7612 cooling blower for system