1TB Seagate 2.5" Wireless/USB 3.0 Plus Portable HDD PN STCK1000300
Web ID: 12521
Wirelessly stream your media and files to tablets, smartphones, Mac Computers and PCs. Carry 500+ films or thousands of songs, photos and documents. Free Seagate Media app for iPad, iPhone, Kindle Fire and Android devices. ONLY WHILE STOCKS LAST!
Manufacturer PN: STCK1000300
GTIN: 763649045015
Warranty: 3 Year
Manufacturer Website
Enjoy your content anywhere—without wires or web.
Wirelessly stream your media and files to tablets, smartphones, Mac® computers and PCs
Carry 500+ films or thousands of songs, photos and documents
Free Seagate Media app for iPad®, iPhone®, Kindle Fire and Android® devices
Share up to different HD films with 3 devices at the same time
Up to 10 hours of battery life*
Exact battery life is subject to product model, usage conditions and configurations
Bring it all
With 1TB of storage capacity, Wireless Plus lets you carry and stream 500+ films or thousands of photos, songs and documents, so you never need to choose what content to bring on your tablet or smartphone.
Break free from wires and web.
The battery-powered Wireless Plus creates its own Wi-Fi network, so you can access all your content on the go without using wires, Internet hotspots or your data plan. Wireless Plus can also continuously stream your media for up to 10 hours between charges, so your movies won't stop before your mobile device.
Enjoy your media on tablets and smartphones.
The free Seagate Media app makes it simple to navigate and enjoy your media library on iPad, iPhone, Kindle Fire and Android devices.
Upload and back up full-resolution photos and video from your tablet or smartphone--no extra cables needed
Share as you please.
With Wireless Plus you can stream up to 3 different HD films to three devices at the same time, or stream photos, songs and documents to up to eight devices.
From mobile to massive screens with AirPlay®.
The Seagate Media app is Apple® AirPlay friendly, offering iOS® users maximum flexibility for enjoying their media.
Use your iPhone to play music from Wireless Plus on AirPlay-enabled speakers
Mirror the film from your iPad on the big screen via Apple TV®
Stay connected.
You don't need Internet to enjoy Wireless Plus, but this portable powerhouse gives you new options when you connect your tablet, smartphone, PC or Mac® computer to a Wi-Fi Internet hotspot.
Stream your music or films from Wireless Plus while you're surfing the web or checking email
Use Wireless Plus like an Internet hub: share a single hotspot Internet connection with up to 7 devices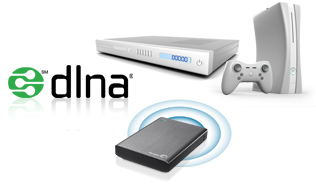 Enjoy your content throughout your home.
With Wireless Plus, it's easy to enjoy all your films, photos, music and documents on DLNA-certified game consoles, media players, smart TVs and more.
Enhanced media experience for Samsung Smart TVs.
Owners of Samsung Smart TVs and Blu-ray players can take advantage of a unique app featuring visually rich media icons and remote-control navigation.
* Coming soon
What's Included
Seagate Wireless Plus
USB 3.0 adapter with detachable USB 3.0 cable
Compact USB wall charger
USB to DC cable
Quick start guide
3-year limited warranty