12 Bay Synology RS3617RPxs RackStation Gigabit NAS Unit
Web ID: 22305
Highly scalable NAS designed for virtualization, data-intensive applications and service continuity for large scale businesses. RS3617RPxs provides rock-solid storage solution with great performance with over 491,000 sequential read IOPS and 3,900 MB/s sequential read throughput1. DDR4 ECC UDIMM guarantees data accuracy and performance for mission-critical environments. ONLY WHILE STOCKS LAST! CASH PRICE
Manufacturer Warranty: 5 Year
Manufacturer PN: RS3617RPXS
GTIN: 846504002221
Manufacturer Website
Powerful storage solution
RS3617RPxs provides rock-solid storage solution with great performance with over 491,000 sequential read IOPS and 3,900 MB/s sequential read throughput1. DDR4 ECC UDIMM guarantees data accuracy and performance for mission-critical environments.
CPU
Quad-core Xeon® D up to 2.7GHz
RAM options
8GB DDR4 ECC UDIMM, up to 64GB
Network
4 x 1GbE port, optional 10GbE NIC support
Scalability
Up to 36 drives with RX1217/RX1217RP2
Ready for 10GbE and beyond
PCIe 3.0 slots allow for faster networking options as you expand your infrastructure. Together with the built-in quad Gigabit ports, RS3617RPxs offers comprehensive connectivity options for link aggregation and failover configurations.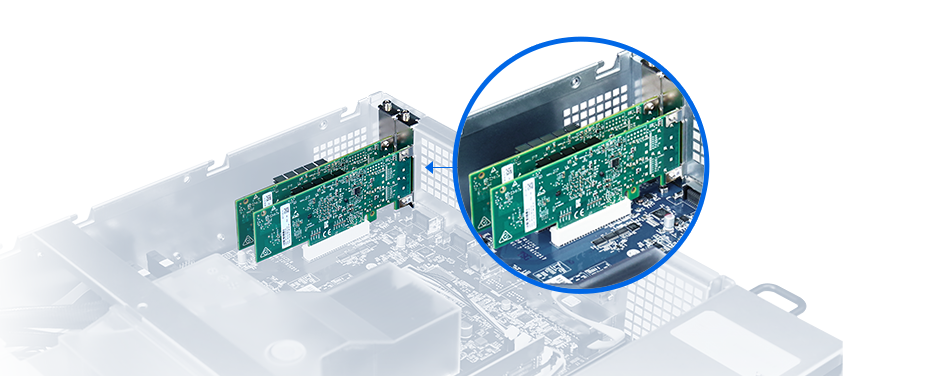 Digital asset protection
Powered by Synology DiskStation Manager (DSM), Synology NAS offers advanced security measures to protect against sudden data loss and potential security holes. Learn more
Security Advisor
Analyzes system settings, password strength, network preferences, and removes any possible malware.
AppArmor
A kernel-level enhancement that blocks malicious programs from accessing unauthorized system resources.
AES 256-bit encryption
Encrypt shared folders and network data transmission to keep data from unauthorized access.

2-step verification
Prevent others from logging in to your DSM by generating a one-time password (OTP) on your mobile device.

Trust Level
Customize the trust level in Package Center to avoid installing packages from untrusted sources, safeguarding your NAS from unknown or tampered package files.
Complete iSCSI and virtualization solutions
Synology iSCSI storage supports most virtualization solutions including VMware vSphere, Microsoft Hyper-V, Citrix Xen Server, and OpenStack Cinder, to enhance work efficiency. Create and manage virtual machines running multiple operating systems such as Windows, Linux, and DSM using Virtual Machine Manager. Learn more
Next-generation file system for better data protection
The Btrfs file system introduces advanced storage technologies and optimized snapshots to prevent data corruption and reduce maintenance overhead. While ensuring high-level data integrity, it also offers flexible, efficient data protection and recovery tools.

Flexible Shared Folder / User Quota System provides comprehensive quota control on user accounts and shared folders

Snapshot Replication provides schedulable and storage capacity-saving data protection with 1,024 shared folder backups and 65,000 system-wide snapshots

File- or folder-level data restoration accelerates data recovery, providing more flexibility for businesses
Automatic file self-healing detects and recovers corrupted files without user intervention
Learn more about the benefits of using Btrfs
5 year warranty
Synology's 5-year limited warranty provides hardware replacement and technical support via email and telephone services, maximizing your enterprises' return on investment.
Synology Replacement Service (SRS)
SRS provides free shipment of replacement units as early as the next business day in selected regions3. Check service availability here.
Powered by Synology DSM
CMS
Manage multiple Synology NAS servers simultaneously on a centralized interface to increase business efficiency.
Learn more
MailPlus
Secure, reliable, and private mail server solution with an intuitive and modern mail client.
Learn more
Synology High Availability
Ensures seamless service transition between clustered servers in the event of a server failure.
Learn more
Office
Collaborate on spreadsheets and documents on your private cloud.
Learn more
Snapshot Replication
Provides schedulable and instantaneous data protection for shared folders and virtual machines on iSCSI LUNs in the event of disaster.
Learn more
Security
Comprehensive built-in security tools are constantly updated to tackle evolving threats and protect your devices.
Learn more

1Power button and indicator
2Beep off button
3Drive status indicator
4Drive tray
5Power port
6PSU indicator
7PSU fan
8Console port
91GbE RJ-45 port
10USB 3.0 port
11Expansion port
12PCIe 3.0 slot
Notes:
Please visit the performance page for test environment.
RS3617RPxs supports up to 2 Synology Expansion Unit RX1217/RX1217RP, sold separately.
Synology guarantees SRS response within the next business-day, and the actual shipping and turnover time is a "best-effort" based on replacement availability.
Hardware Specifications
CPU
CPU Model
Intel Xeon D-1521
CPU Architecture
64-bit
CPU Frequency
Quad Core 2.4 (base) / 2.7 (turbo) GHz
Hardware Encryption Engine (AES-NI)
Memory
System Memory
8 GB DDR4 ECC UDIMM
Memory Module Pre-installed
8GB (1 x 8GB)
Total Memory Slots
4
Memory Expandable up to
64 GB (16 GB x 4)
Storage
Drive Bays
12
Maximum Drive Bays with Expansion Unit
36
Compatible Drive Type* (See all supported drives)

3.5" SATA HDD
2.5" SATA HDD
2.5" SATA SSD

Maximum Internal Raw Capacity
144 TB (12 TB drive x 12) (Capacity may vary by RAID types)
Maximum Raw Capacity with Expansion Units
432 TB (12 TB drive x 36) (Capacity may vary by RAID types)
Maximum Single Volume Size

200 TB (32GB RAM required, for RAID 5 or RAID 6 groups only)
108 TB

Hot Swappable Drive
External Ports
RJ-45 1GbE LAN Port
4 (with Link Aggregation / Failover support)
USB 3.0 Port
2
Expansion Port
2
PCIe
PCIe Expansion
2 x Gen3 x8 slots (x8 link)
Add-in-card support
PCIe Network Interface Card (Learn more)
File System
Internal Drives
External Drives

Btrfs
EXT4
EXT3
FAT
NTFS
HFS+
exFAT*

Notes
exFAT Access is purchased separately in Package Center.
Appearance
Size (Height x Width x Depth)
88 mm x 430.5 mm x 692 mm
Weight
14.5 kg
Others
System Fan
80 mm x 80 mm x 4 pcs
Fan Speed Mode

Full-Speed Mode
Cool Mode
Quiet Mode

Easy Replacement System Fan
Power Recovery
Noise Level*
50.2 dB(A)
Scheduled Power On/Off
Wake on LAN/WAN
Power Supply Unit / Adapter
2 X 500W
AC Input Power Voltage
100V to 240V AC
Power Frequency
50/60 Hz, Single Phase
Power Consumption*
116.42 W (Access)
65.49 W (HDD Hibernation)
British Thermal Unit
397.24 BTU/hr (Access)
223.46 BTU/hr (HDD Hibernation)
Redundant Power Supply (for xs+ and RP model)
Environment Temperature
Operating Temperature
5°C to 35°C (40°F to 95°F)
Storage Temperature
-20°C to 60°C (-5°F to 140°F)
Relative Humidity
5% to 95% RH
Certification

FCC Class A
CE Class A
BSMI Class A

Warranty
5 Years
Notes

Power consumption is measured when fully loaded with Western Digital 1TB WD10EFRX hard drive(s).
Noise Level Testing Environment: Fully loaded with Seagate 2TB ST2000VN000 hard drive(s) in idle; Two G.R.A.S. Type 40AE microphones, each set up at 1 meter away from the Synology NAS front and rear; Background noise: 16.49-17.51 dB(A); Temperature: 24.25-25.75°C; Humidity: 58.2-61.8%

DSM Specifications ( See more )
Storage Management
Maximum Internal Volume Number
1024
Maximum iSCSI Target Number
64
Maximum iSCSI LUN
512
iSCSI LUN Clone/Snapshot, Windows ODX
SSD Read/Write Cache (White Paper)
SSD TRIM
RAID Group
Supported RAID Type

RAID F1
Basic
JBOD
RAID 0
RAID 1
RAID 5
RAID 6
RAID 10

RAID Migration

Basic to RAID 1
Basic to RAID 5
RAID 1 to RAID 5
RAID 5 to RAID 6

Volume Expansion with Larger HDDs

RAID F1
RAID 1
RAID 5
RAID 6

Volume Expansion by Adding a HDD

RAID F1
RAID 5
RAID 6
JBOD

Global Hot Spare Supported RAID Type

RAID F1
RAID 1
RAID 5
RAID 6
RAID 10

File Sharing Capacity
Maximum Local User Accounts
16000
Maximum Local Groups
512
Maximum Shared Folder
512
Maximum Shared Folder Sync Tasks
16
Maximum Concurrent CIFS/AFP/FTP Connections
2048
Windows Access Control List (ACL) Integration
NFS Kerberos Authentication
High Availability Manager
Log Center
Syslog Events per Second
3000
Virtualization
VMware vSphere 6 with VAAI
Windows Server 2012
Windows Server 2012 R2
Citrix Ready
OpenStack
Add-on Packages (learn more about the complete add-on package list)
Antivirus by McAfee (Trial)
Central Management System
Chat
Maximum Users
4000
Notes

The number of concurrent HTTP connections for Chat was configured to the maximum.
CPU and RAM usage were both under 80% when the number of maximum users was reached.
For tested models with expandable memory, the maximum amount of RAM was installed.

Cloud Station Server
Maximum Number of Concurrently Connected Devices
2000
Maximum Number of Concurrently Connected Devices (with RAM expansion)
10000
Maximum Number of Synced Files (btrfs)
3,000,000 / single file reaction time 530 ms
Maximum Number of Synced Files (ext4)
3,000,000 / single file reaction time 229 ms
Notes

The maximum number of concurrently connected devices refers to the maximum number of devices that can remain connected at the same time. For more information on file processing capability, please refer to the reaction time for file processing.
File reaction time refers to the preparation time required for other devices to start downloading a 1KByte file from a Synology NAS after the file has been added to the NAS. RAM expansion was not used during testing.
Non-encrypted shared folders were used during the aforementioned testing.

Document Viewer
Download Station
Maximum Concurrent Download Tasks
80
exFAT Access (optional)
MailPlus / MailPlus Server
Free Email Accounts
5 (Licenses required for additional accounts)
Recommended MailPlus Client Number
Up to 400 (Btrfs) / 450 (EXT4)
Maximum Server Performance
2,621,000 (Btrfs) / 2,412,000 (EXT4) emails per day, approx. 80 GB (Btrfs) / 73.6 GB (EXT4)
Notes

The CPU and RAM usages were both under 80% when testing recommended client numbers.
For tested models with expandable memory, the maximum amount of RAM was installed.
Read-write SSD cache was enabled in 5-bay (and above) NAS models with 2 SSDs units installed.
The performance of the mail system will slightly decrease in high-availability mode due to data synchronization between the two servers.
Functions that were enabled in all of the tests above: anti-spam, anti-virus, DNSBL, greylist, content scan, full-text search (English only).

Media Server
DLNA Compliance
Office
Maximum Users
1600
Maximum Simultaneous Editing Users
100
Notes

CPU and RAM usage were both under 80% when the number of maximum users was reached.
For tested models with expandable memory, the maximum amount of RAM was installed.
Client performance may affect maximum simultaneous editing users. Client PCs used for testing: Intel Core i3-3220 / 8GB RAM

PetaSpace
Snapshot Replication
Maximum Snapshots per Shared Folder
1024
Maximum Snapshots of all Shared Folder
65536
Surveillance Station
Maximum IP cam (Licenses required)
75 (including 2 Free License) (See All Supported IP Cameras)
Total FPS (H.264)*
2250 FPS @ 720p (1280x720)
900 FPS @ 1080p (1920×1080)
500 FPS @ 3M (2048x1536)
300 FPS @ 5M (2591x1944)
Total FPS (MJPEG)*
750 FPS @ 720p (1280x720)
375 FPS @ 1080p (1920×1080)
250 FPS @ 3M (2048x1536)
180 FPS @ 5M (2591x1944)
Notes
Surveillance Station throughput is tested with Axis network camera, using continuous recording with live view from Surveillance Station and motion detection by camera. Live view and recording are sharing the same stream from the camera.
Video Station
Video Transcoding
Group 1 - Type 1 (See more)
Maximum Transcoding Channel Number
1 channel, 30 FPS @ 1080p(1920×1080), H.264 (AVC)/MPEG-4 Part 2 (XVID, DIVX5)/MPEG-2/VC-1
Virtual Machine Manager
Maximum Virtual DSM Number (Licenses required)
8 (including 1 Free License) (Learn more)
VPN Server
Maximum Connections
30
Environment & Packaging
Environment
RoHS Compliant
Packaging Content

Main Unit X 1
Accessory Pack X 1
AC Power Cord X 2
Quick Installation Guide X 1

Optional Accessories

Surveillance Device License Pack
8GB DDR4 ECC UDIMM
16GB DDR4 ECC UDIMM
Expansion Unit: RX1217/RX1217RP X 2
VS360HD
VS960HD
Synology RKS1317 - Rail Kit Sliding
Synology Ethernet Adapter E10G15-F1
Synology Ethernet Adapter E10G17-F2